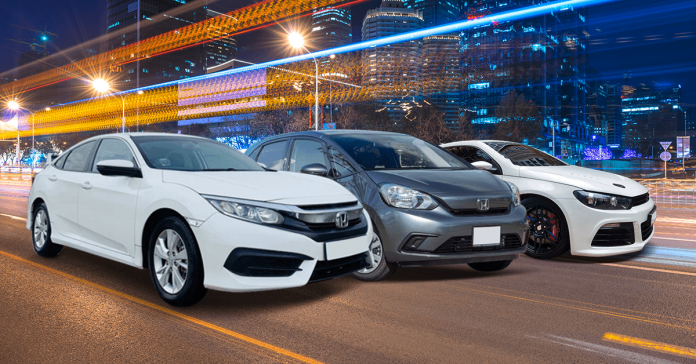 Isn't it the most wonderful time of the year?🎄  We say definitely, especially for car buyers! What's not to be excited about? Aside from snagging those awesome year-end promos, it's the perfect time to get fresh news on which are the 2021 most popular cars as told by Carousell users— handy info if you're still in research mode.
If "Buying my dream car" is one of your 2022 goals, we've compiled the top 10 cars on Carousell in terms of brand and model searches to help narrow down your search. Our selection is based on Carousell Philippines' user search trends on the platform for this year. 
Curious to know if the car you're eyeing "led the race"? Find out below.
2021 Most Popular Cars (By Brand)

As seen on our top 3 most searched car brands on Carousell, it's no surprise that Japanese cars are highly desired by most Filipinos.  Its popularity can be attributed to its reputation of reliability and Japan's sensibility. For brands like Honda, they even have "won't go wrong" models like Civic, or Jazz. In a practical sense, Japanese cars are also easy to maintain due to the accessibility to auto services and auto parts here in the Philippines.
After Toyota, Honda and Mitsubishi, Ford follows next at number 4 spot. What makes it well-loved by most Filipinos is that it offers better fuel economy and has an impressive "infotainment technology" system inside. This is perfect for techie drivers, or  for playing your soundtracks while having a road trip!
More than being just a mode of transport, driving a continental brands like BMW are seen as "status symbols" to attain. It's no secret that owning a car in the Philippines is very expensive and is limited to a chosen few who have the financial freedom to afford one (especially this COVID period). Apart from status, BMW cars also provide luxurious comfort, generally as compared to more mass appealing brands. Secondhand BMWs are a good option for those who can not afford brand new car prices. Check out deal starting at xx here.
2021 Most Popular Cars (By Model)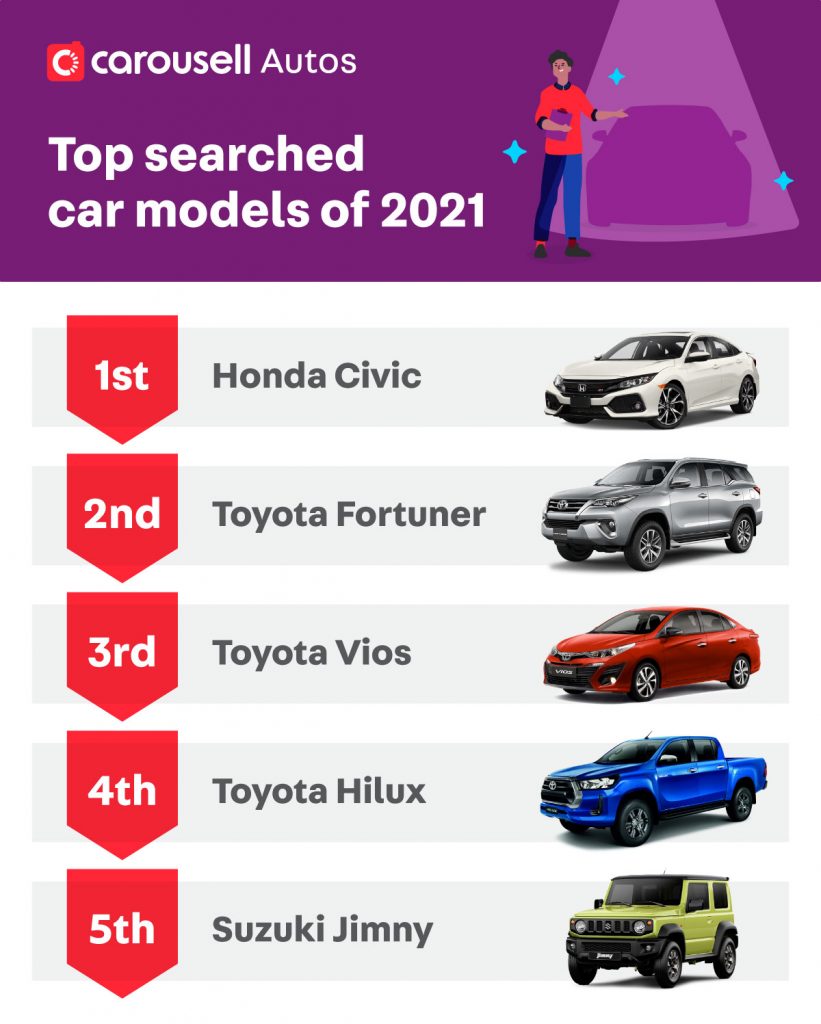 If you need car recommendations, or just curious about what's hot right now, this section is handy for you! Let's talk about these most popular 2021 car models on Carousell, and why we agree with our community that they are awesome picks.
#1: Honda Civic
I first knew of Honda Civic as a kid, when my dad used to drive this around as our first car. Fast forward to 2021, it is still the most sought-after model by buyers! Frequently used in driving schools, you could say the Honda Civic is one of the easiest beginner cars to drive. True enough, a classic Civic's staying power is undeniable.
What's not to love about it? As it is super reliable (Fun fact: Honda Civics are known to go over 200,000 miles with low maintenance) and economical to keep, it is definitely one of the safest choices in the market for a first car.
#2: Toyota Fortuner
The second placer in our most-searched list is the ever-famous Toyota Fortuner. Did you know that it's Toyota's best selling SUV in the Philippines, and for good reason? If you're looking for a spacious, 7 seater car that fits your family and is also equally stylish, this model is for you!
Although on the pricier side, most Filipinos aspire for a Fortuner due its elegant design and superior build quality which Toyota is known for. Aside from comfort, its interior also boasts of a generous space that can seat multiple people. You can even fold the third row seats to get more cargo space. 
Aside from great fuel economy, this SUV is also capable of off-road driving, perfect for adventure seekers.  Not only that, Filipinos typically prefer high cars especially during rainy season when the roads get flooded.
#3: Toyota Vios
Next on our most searched cars list is the Toyota Vios. With a more accessible price range fit for a budget-conscious car owner, this model is a go-to for most Filipinos. 
Aside from above, Vios cars also offer great fuel economy if you want a dependable sedan you can use for everyday city errands to occasional long drives. 
If you're interested, check out more brand new and secondhand Toyota Vios cars available on Carousell here!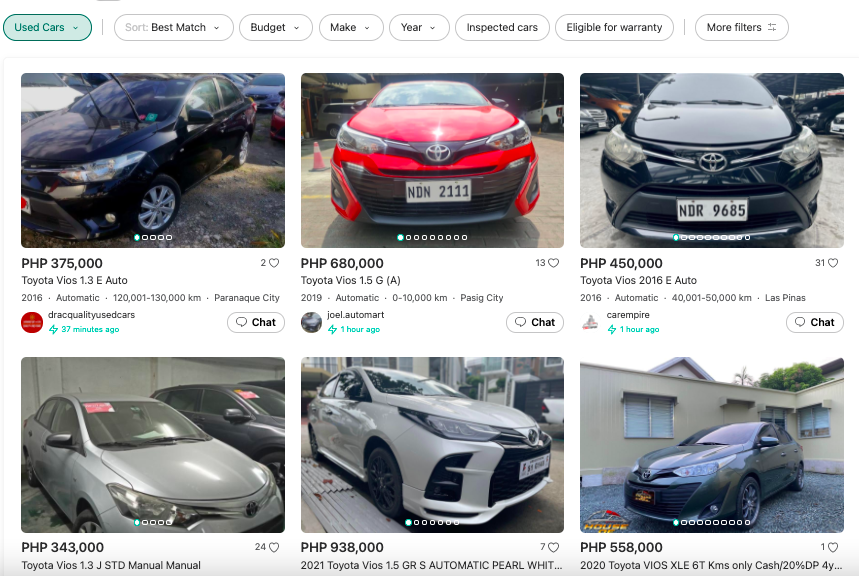 #4: Toyota Hilux
On the subject of pick-up trucks, Toyota Hilux is the most preferred one by Carousell users. It is well-known for being a heavy duty utility vehicle fit for any type of usage. Whether you're eyeing to use this for business, personal use or both, this is one of the good choices out there!
Just like Toyota Fortuner, this vehicle is also fit for both everyday usage and rough, off the road driving. It boasts of powerful features such as hill descent control, improved throttle response, and improved stability control system.

#5: Suzuki Jimny
Last but not the least, Suzuki Jimny is a lifestyle SUV that many aspire to own. With its retro design and rugged look, it's no doubt that this ride is in most car enthusiasts' wish list.
A Suzuki Jimny is great if you're looking for a unique looking-SUV with an engine and build that's powerful enough for off-road traveling adventures. To add on to its engine performance suitable for rough roads, Suzuki Jimny's suspension is also top-notch in absorbing any bumps along the way.
Before buying one, do note that this car is usually on the expensive side, and has a lesser, utilitarian space compared to usual sedans or SUVs. If its small size and overall cost are not issues for you, we definitely encourage you to get one.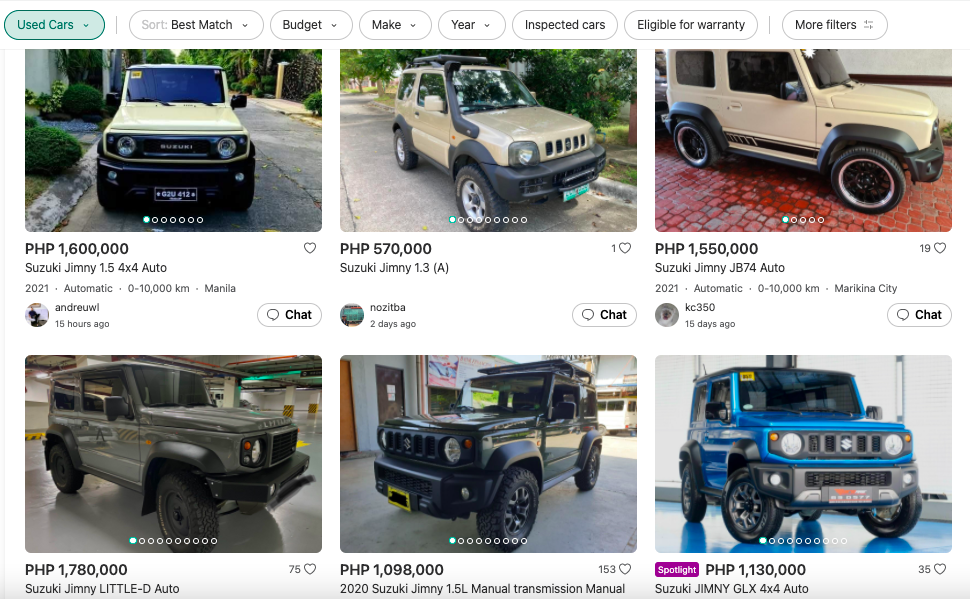 That ends our recap of the 10 most popular car brands and models on Carousell this 2021. Have you picked your favourite one to purchase next year? Let us know in the comments section!