Ford Motors has had a long, coloured history with the Philippines, and many may not know it. Dating back as far as 1913, when the world's most famous and successful car, the Ford Model T, was assembled locally in the Philippines, the relationship between Ford and the Philippines was born. In 1929, Henry Ford then established Ford Philippines, Inc.
Later on, in modern day history, Ford manufactured and produced a series of cars in the Philippines, from 1998 to 2012. Since 2012 however, Ford cars sold in the Philippines are mostly imported from Thailand and the United States.
Ford Motors remains one of the most popular used car brands in the country. Ford cars are known for their quality, durability, and affordability. A search on RepairPal.com shows that Ford cars have scored 3.5 out of 5 on average, a very decent score indeed. Ford cars are also easy to maintain and very reliable. If you're looking for a great deal on a used Ford car, be sure to check out available used car deals on Carousell Cars PH.
What makes Ford cars so good?
One of the main reasons why used Ford cars are so popular in the Philippines is because they are easy to maintain. As mentioned, Ford cars are also known for being reliable and affordable. More than that, Ford cars are also very durable. In the Philippines, one of the best-selling cars in recent years is the Ford Ranger. That speaks volume about Ford's popularity in the country and is a testament to its durability and reliability as so many drivers have placed their trust in a Ford.
As such, because of its popularity, you can be sure to find great deals for Ford cars in the Philippines. So if you are looking for a used car, Ford should definitely be at the top of your list!
Are Ford cars reliable?
Ford cars have not always been known for their reliability. In fact, Ford had several difficult years with consumer ratings on reliability and ease of maintenance. Since then, Ford has taken strides to refocus, and in recent years has greatly improved on the reliability front and started to score better results in consumer surveys.
Ford cars these days are also starting to be known for being easy to maintain. This is likely due to the fact that Ford has focused on making their cars simple and straightforward to work on. So if you're looking for a car that's easy to take care of, a Ford is a great choice!
Great deals on Ford in the Philippines
Ford EcoSport (From P430,000 onwards)
The Ford EcoSport is one of the most popular Ford cars in the Philippines. As the entry-level, most affordable vehicle in the Ford lineup, the EcoSport has become one of the most popular Ford vehicles you can find.
According to many consumer reviews, the Ford EcoSport looks great on the outside, has good performance, and handles surprisingly well too! While it is a mini compact SUV, the styling and design still give it a great stance and stature, looking magnificent from all angles.
The comfort you get is also unparalleled. The build quality on the interior is high in quality and standards, and the performance is awesome. That being said, the Ford EcoSport is a compact SUV after all, and the space around the cabin and boot may not be the largest you can find. Still, for a vehicle in its class, you do get plenty. The legroom is decent in the rear, and the finishing makes every ride an enjoyable and comfortable one.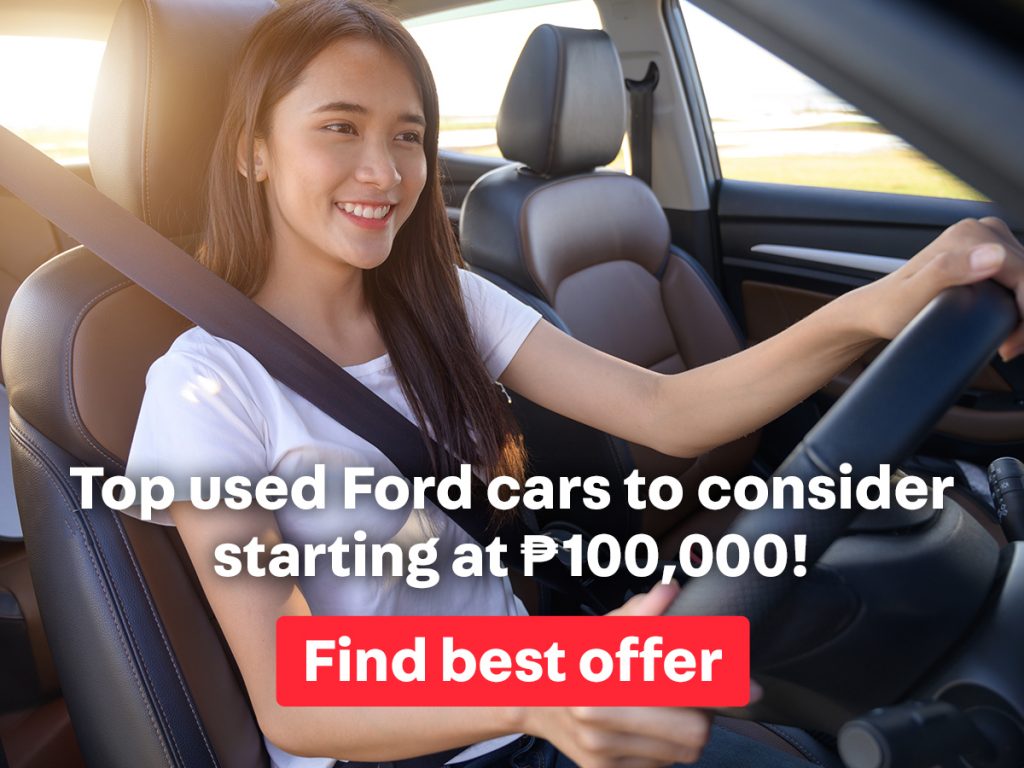 Ford Everest (From P360,000 onwards)
As you know, road conditions are not always silky smooth and perfect in the Philippines. Wouldn't it be great if there was a car that could glide through the bumps and potholes, and plough through difficult terrains all while transporting your family in a safe manner?
In comes the Ford with their answer – the Ford Everest.
The Ford Everest is a mid-sized SUV that's perfect for families. It's a great car for long road trips, as it has plenty of space and is very comfortable to drive. The Ford Everest is also known for being very reliable and is one of the most popular Ford cars in the Philippines.
The Ford Everest is a seven-seater off-road SUV that's packed with purpose-built features that were created and engineered to enable you and your family to effortlessly travel over rough terrain and unexpected obstructions. Whether you're out exploring or driving along roads filled with palpable tension on your way home, the Ford Everest has everything you need.
Outside, the Ford Everest boasts an imposing stature, giving it a majestic and dominating road presence.
Although the new Ford Everest could cost approximately 2,000,000 Pesos, you can actually find great used car deals for less than half of that.
Ford Ranger (From P998,000 onwards)
The Ford Ranger is a midsize pickup truck that's been in production for over two decades. It's one of the most popular pickups on the market and has a long history of success. In the Philippines, the Ford Ranger is the best-selling Ford model in recent years! It is hardly surprising as the Ford Ranger is well equipped and more than capable to deal with the road conditions, wherever it may be, in the country!
The Ranger is available in both two- and four-wheel drive configurations, making it perfect for both on and off-road use. It's also available in a variety of different trim levels, so you can choose the perfect model for your needs.
The Ranger is known for its durability and has been put through some of the harshest tests imaginable. It's also known for its great fuel economy, making it a great choice for drivers who need a truck that can handle both work and play.
If you're in the market for a midsize pickup truck, the Ford Ranger should be at the top of your list. It's one of the most popular pickups on the market, and it's perfect for drivers who need a vehicle that can handle anything. Thanks for choosing Ford!
In the Ford Ranger, you will experience supreme levels of comfort while driving through rugged terrain. The Ford Ranger is indeed, one of a kind! It is an excellent pickup truck with 18-inch alloy wheels that grip the roads in a strong and sturdy way to drive smoothly over all-terrain conditions. The powerful 2.3 litre EcoBoost engine gives 270 bhp horsepower with outstanding torque conduction that rules the truck's mobility on the road.
Moreover, the Ford Ranger has ample cargo space that ensures easy loading and unloading of valuable goods. It has helped many an owner to drive through rusty lanes mainly during poor weather conditions that worsen the road's structure.
Ford Mustang (From P2,200,000 onwards)
An article on Ford cars will never be complete without mentioning the Ford Mustang.
The Ford Mustang is arguably one of Ford's most iconic cars since its introduction in 1964. The iconic sports coupe has been a favorite of many generations, and with the introduction of the Mustang 50th Anniversary edition in 2012, there was no question as to why it became so popular among car enthusiasts. Many of the most memorable and iconic Hollywood movie car chase scenes involved a Mustang, something which contributed to its cult-like popularity status.
The Mustang has been offered as a two-door sports coupe from 1964 until 1973, as a two-door soft top from 1974 until 1978, as a convertible from 1979 to 1993, and as a four-door sedan and coupe from 1994 to 2004. The new 2005 model year introduced a change that would split the Mustang into two models: the V6 four-cylinder Mustang against the V8 GT. With such powerful engines, if you are a ranging stallion in need of speed, the Ford Mustang is certainly going to fit you like a dream.
The interior of the Ford Mustang includes premium leather seats and a sunroof. If you want to enjoy a true American luxury vehicle in a sports car, then you should take a look at the Ford Mustang interior trims. Features like automatic climate control and remote starter are also available as options, so if you are shopping for a used Mustang, be sure to find out which trims and options are fitted to the car!
The Ford Mustang is a classic American sports car. It's been in production for over fifty years and has only gotten better with age. The Mustang is a sleek, sexy vehicle that was designed to go fast and attract attention. In 1965, Ford wanted to offer a more affordable sports car that was also comfortable and offered the best fuel economy possible. They designed the Mustang with a long hood and short rear deck. This design makes it aerodynamic so that it can go faster than most other cars on the market today.
In 1957, Ford had an aggressive styling department lead by George Walker who wanted to find a way to bring together Ford's identity, show off new manufacturing techniques, and create a lightweight body without losing structural integrity or performance.
Today, the DNA of the Mustang has not changed. The American classic muscle car style has grown up into a fine, gentlemen's choice of the car while retaining a great deal of sportiness. The Mustang is an absolute head turner and is what dreams are made of.
So, Ford cars have enjoyed a good amount of popularity in the Philippines, and have a wide range of cars on offer. This also means that the used car market for Ford cars is extensive, and you can certainly pick out a good deal in no time. Be sure to check out used Ford cars available on Carousell Cars today!