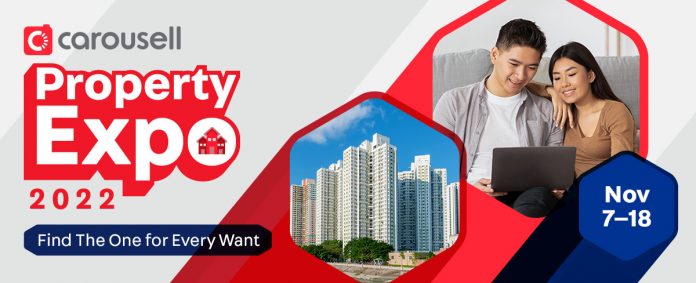 Carousell Philippines is holding a hybrid Property Expo for 2022, inviting real estate experts to showcase their expertise and help both property buyers and real estate professionals in the Philippines to better their knowledge of the state of real estate in the country this year and forward.
The Property Expo 2022 started on November 7, 2022, and is going to continue until November 18. The schedule of activities combines both virtual and face-to-face events, with activities from November 7 to 16 being a virtual webinar series centering around buying property so that you can achieve your #HomeGoals sometime in the near future. For November 16 to 18, the Carousell Property Expo 2022 will hold a physical exhibition at the Palm Drive Activity Center located in the Glorieta Mall, Makati City.
If you're interested in joining the expo yourself, you can go to caro.sl/propertyexpo to register for the event. Registration is free. Plus, there are benefits given to early registrants of the event. Here are some of these benefits:
First dibs on exclusive offers and prizes from the top real estate developers in the country

Get onsite consultations and workshops with Carousell's accredited property experts

Enjoy direct contact with property sellers to find the property of your dreams
Some of the leading property developers, lending institutions, and property brokers that you can expect to be in the three-day on-ground event would be BPI, SMDC, AboitizLand, Aseana Land, DMCI, Pag-IBIG Fund, Aspire by Filinvest, and so much more.
Real estate professionals can network with these big companies and educate themselves on the property trends in the country while improving their work. Casual property buyers can use this opportunity to learn more about getting the best bang for their buck and finding the right property for them.
The webinar itself covers all sorts of topics related to property investment in the Philippines. Here are the webinar topics and the real estate professionals that will be discussing them with you:
November 7, 2022 Webinars
11:00 AM:

Property Outlook for 2022 and Beyond with Mikko Barranda

, Director of Commercial Leasing at Leechiu Property Consultants Inc.

4:00 PM:

We'll Help You Find the ONE in Real Estate with Andy Mañalac

, Chairman and Co-Founder of Havitas Development Corporation and Operating Principal of Keller Williams Manila Bay Market Centre
November 8, 2022 Webinar
11:00 AM:

5 Stages of Retiring with Property Passive Income with Carl Dy

, President of Spectrum Investments, Property Guru, Investor, and Speaker
November 9, 2022 Webinars
11:00 AM:

Seller Series: Staying On Top of the Game with Eva Borines,

Licensed Real Estate Broker, YouTuber, and Lifestyle Host

4:00 PM:

Finding the Right Home Loan For You with Chris Suarez,

Licensed Real Estate Broker, and Operations Officer at Human Shelter Realty Corporation
November 10, 2022 Webinars
11:00 AM:

"I love bulok": How to Invest in Foreclosure

with

Noli Alleje,

The King of Foreclosures and Managing Director of The Property Forum

4:00 PM:

Buy Property in the Philippines From Anywhere in the World

with

Dr. Mary Gaw So,

President of the Real Estate Hub in the Philippines
November 11, 2022 Webinars
11:00 AM:

How to Transfer Titles of Property Inheritance

with

Hardy Lipana,

President and CEO of Conveyance Realty Services, Inc.

4:00 PM:

All Eyes on Visayas and Mindanao: Discover VisMin's Top Real Estate Investment Picks

with

Anthony Leuterio,

Founder of Filipino Homes
November 14, 2022 Webinar
11:00 AM:

Best Places to Retire in the Philippines According to Carousell with Shine Resurreccion,

Head of Property and Autos in Carousell Philippines
November 15, 2022 Webinar
11:00 AM:

Property Buying Tips: How to Know If It's the Right ONE? with Julius Dela Cruz,

International, Multi-Awarded, Professional, Licensed Real Estate Broker for RE/MAX UNLIMITED
November 16, 2022 Webinar
11:00 AM:

Property Buying Trends According to Carousell with Djon Nacario,

General Manager of Carousell Philippines
You can watch these webinars on the following channels:
Carousell's Facebook Page: https://www.facebook.com/carousell.ph/
Carousell's YouTube Channel: https://www.youtube.com/user/carousellTV 
Whether you're a professional involved in the real estate industry or a soon-to-be property owner wanting to check their options, there is bound to be something for you to learn at Carousell Philippines' Property Expo 2022. Register now and join us for this event and get a chance to win prizes worth PHP 250,000 during the on-site event as well.
Use the information that you get from this expo to discover that #MayKiligSaCarousell and Find the One property for you. Looking forward to seeing you there!