Which should you do: buy a house and lot or a condo apartment?
There's nothing more satisfying than having a place in the Philippines to call your own.
However, owning a property is a significant investment that can lead to a lifetime of mortgage and debt repayment. It is one of the most important decisions for anyone to make.
And as with any significant purchase, you first need to do your research before buying anything.
Overall, when it comes to deciding whether to buy a house and lot or an apartment or condo, there are a few factors that you need to consider.
Very briefly, here are some considerations for each of them:
You can customize your house to fit your needs

You have control over who lives in the neighbourhood

You can use the land however you want

The initial cost is higher, but you can earn by selling it later on
The initial cost is lower

There is less maintenance required

The neighbourhood is already predetermined
Let's take a closer look at each of these options.
The Advantages of Buying a House and Lot
Space
The main benefit of owning a house is having more interior space and outside space of your own. Houses have larger living rooms, kitchens, dining areas, and bedrooms. House owners typically have a garage and area for laundry and dirty cooking compared to condo owners.
Exclusive Rights and Freedom
When you acquire a house and lot, you acquire ownership of land that is solely yours. This means, as a house owner, you are free to modify and make changes to your house as you deem fit.
Want a veranda in your backyard? Build one.
Want to plant exotic plants in your garden? Go ahead.
Want to build an entertainment room for inviting friends over? It's entirely up to you.
As long as you're not breaking any laws, no one can stop you from maximizing your internal and external space.
Privacy
Most houses are generally located in the suburbs. They tend to have a more peaceful neighborhood than the business districts with heavier traffic.
Each house and lot is situated quite far from each other so you won't be too close to a neighbor giving you greater privacy.
Legacy for Future Generations
Perhaps the biggest advantage of owning a house is that it makes for a great lifetime asset. No doubt, some maintenance is required over time, but you can easily pass your house to your children, who in turn can pass it on to their children and so on.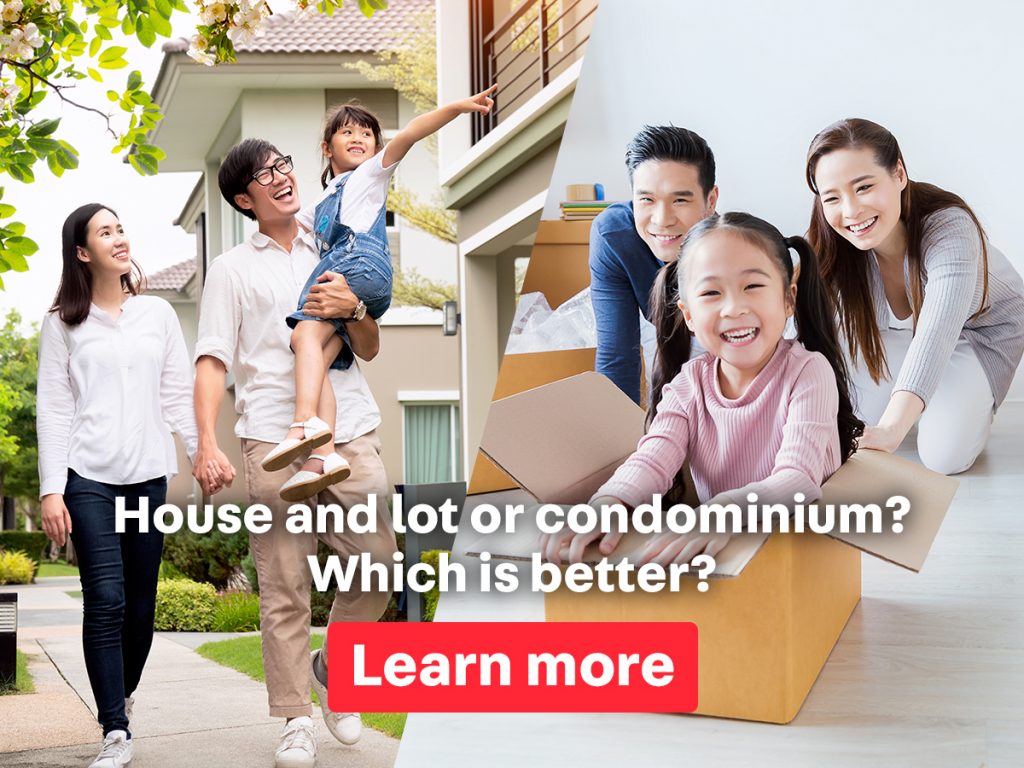 The Disadvantages of Buying a House and Lot
Maintenance Costs
Homes require constant maintenance and repairs, unlike apartments which only need a once-a-year checkup. The roof, gutters, windows, doors, and driveway are just some areas that need to be checked and maintained regularly.
And because you're the sole owner of the house, you'll have to bear the entire cost, unlike condo owners who share the maintenance expenses with every other owner.
Large Initial Cost
The initial cost of buying a house and lot is significantly more than an apartment or condo. You have to pay for the down payment and various closing costs, title search fees, and transfer taxes.
Hidden Problems with the Land
When buying a house for sale, you'll want to check the land thoroughly. Ensure there are no issues with it, such as landslides, flooding, or soil erosion.
To avoid having issues months after you've moved in, it's always a good idea to get a professional house inspector to check for any defects or potential issues.
Longer Commutes
Houses are usually located in the suburbs, away from the business districts. This means you may have to spend more time commuting between work.
Also, houses in the city are typically located in regions with frequent flooding during rainy days, reducing your freedom in choosing a perfect property location in terms of accessibility or safety.
The Advantages of Buying a Condominium
Affordability
Condominiums are typically less costly than houses and lots in the same region, particularly in desirable locations. Naturally, there are exceptions; high-end condominiums in prime business districts like BGC and Rockwell are generally more expensive. .
But if you were to weigh and consider them on a per square metre (sqm) basis, houses are generally cheaper because they are bigger. Just head over to our Carousell listing for house and lot sale in Metro Manila and you'll find affordable units starting from P23,000,000 in Makati City for a 202 sqm house.
However, for most first-time condo buyers or middle-income households, you might want to consider a studio unit. Many places also have a rent-to-own scheme such as this listing in Makati City that starts at P29,878.
Location
Condominiums are typically located in business hubs or highly-accessible locations. In most cases, you will find a mall or restaurant within a few minutes walk from your condo. There are also schools, hospitals, transport hubs, and many more, making it very convenient for daily living.
In addition, some condominiums come with their malls with a spa, dojo, cafe, and many others. You'll hardly ever have to leave the building. Most would have a swimming pool and a residential gym at the bare minimum.
Security
Condominiums are usually equipped with CCTV cameras and an infra-red access system at the entrance. This means that residents can have peace of mind without worrying about burglaries or theft of their homes. There is also a guardhouse in most condo projects where security personnel conduct 24/7 rounds to provide an added level of protection against crime.
Amenities
Aside from swimming pools, gyms, spas, and retail areas, you'll also find several amenities in condos like function rooms for conferences, party rooms for birthday celebrations, carpark slots for your car, kids' play areas, and lush gardens.
The Disadvantages of Buying a Condominium
Maintenance Fees
As with anything, there will always be a trade-off. In this case, it would be the monthly maintenance fees that condo owners have to pay. This is in addition to the mortgage or loan payments that you need to make every month.
The amount of monthly maintenance fee varies from building to building, but it's typically around P1,500 per month for a studio unit and P3,000 per month for a three-bedroom unit. That may not seem like much, but if you multiply it by 12 months, it would be equivalent to an extra P18,000 a year for a studio unit and P36,000 for a three-bedroom unit.
In addition, special assessments may also be levied from time to time for items such as repairs or replacement of the building's common areas or facilities. So, it's always important to ask about the monthly maintenance fee and special assessment amounts before you buy a condo.
Smaller Space
Another disadvantage for people who are used to ample living space, living in a condominium is the opposite. Some studio apartments are as tiny as just 18 square meters.
Condominiums in the Philippines have an average floor area of less than 50 square meters. Plus, house owners have an outside area, while condo owners do not have exclusive access to shared spaces. There are hundreds or thousands of other owners in the development with the same access rights.
Condo Rules
Because extension projects might impact the building's integrity, they are not permitted in condo developments. Plus, given the size constraint, there's no way to add another room without compromising on the livable space. That said, condo residents can make improvements within the confines of their unit, but they must obtain permission from the property management office first.
But that's not all; living in a condo means following the condo management and committee rules. For instance, you can't use some of the facilities freely but must make a booking first. Some condos also have weekly limited access to their facilities to allow other residents the opportunity to use them. Pet lovers may also be surprised to discover that some condos have a "no pets" policy while others impose a limit on the number you can raise in your unit.
The Verdict
So, is it better to buy a condo or a house?
Ultimately, it all boils down to your needs, preferences, and long-term goals.
Regardless of the property type you choose, it must be affordable to you and fits within your budget. You shouldn't spend more than 28% of your gross monthly income on housing amortization as a general rule of thumb. Otherwise, you risk seeing your savings soon run out.
At the same time, you'll want to consider how your home will affect your lifestyle.
Living in a city is more convenient as you have amenities and facilities within a few minutes walk or drive. However, city life is also faster-paced and might not be suitable for everyone.
Finally, if you have plans for starting a family and having many children of your own, the living space of a condo might not be as suitable.
There are no right or wrong when choosing a home, so long as you can comfortably afford it. But by weighing what you value most in a home, the lifestyle you want, and your goals for the future, you'll be in a much better spot to make a decision.