If you are in the market for a used car, there are a few things you need to keep in mind. Firstly, it's important to decide what type of car you want and need. Do you need a small car for city driving or a larger vehicle for family trips?
Once you've decided on the type of car, it's time to choose the model. The most popular models are typically Japanese cars, which are well-known for their reliability and low cost of ownership. Apart from Japanese makes, popular American manufacturer Ford also has a wide offering that suits the market in the Philippines.
Ready to go shop for your used cars? Here is a list of used car contenders that have reasonable price tags and are great options to consider:
Ford Ranger (From P998,000 onwards)
Ford is an American multinational automotive corporation that has been producing cars since 1903. The Ford Ranger is a midsize pickup truck that is ideal for both city and off-road driving. It comes in both 2×2 and 4×4 variants, so you can choose the one that best suits your needs.
The Ford Ranger is known for its durability, fuel efficiency, and superior driving performance. It is Ford's best selling car in the Philippines, and for good reasons. The ride is supremely comfortable even on bumpy surfaces, which is a great winning point for Filipino drivers, and the cabin and boot space is immense. The Ford is a great option to take the family out on adventures, and is a true do-it-all!
The Ranger's wide stance and bold presence make it a top pick in the pickup category. Why buy a used Ford Ranger? Used Ford vehicles are recognized for their price depreciation, thus the prospect of stumbling onto a high-quality diamond for an even lower price should be enough of a reason to purchase one.
With their stunning looks, these trucks offer something more than just aesthetics. They're the ideal companion for getting anything done, even if it means getting dirty and rough. The Ford Ranger is capable of transporting huge weights with ease thanks to its big towing capacity. It's also shown to be quite useful off-road.
For those who love their Ford Rangers, they're a fantastic vehicle. It is claimed to be user-friendly, fuel-efficient, and has adequate head and legroom for comfort in a pickup truck. It still maintains all of these characteristics as a used car.
Nissan Almera (From P388,000 onwards)
The Nissan Almera has been manufactured by the Japanese car company since 1994 and remains one of its more popular cars to this day. It is a small, affordable family vehicle that was meant to compete with other popular models in its class including the Honda Civic and Toyota Corolla.
A used Nissan Almera is a great way to save money and is a wonderful second-hand car choice. The Nissan Almera is the brand's entry into the subcompact sedan market, and it has elegant looks thanks to the sharp edges and swooping lines. It's no surprise that its beautiful appearance paired with its usefulness keeps Filipinos choosing the Almera over its rivals more than often than not.
The Nissan Almera five-passenger model provides ample head and calf space for its passengers. It also has most of the standard features available in a vehicle. The Almera comes with several options, a 1.2-liter engine with a five-speed manual gearbox, while a larger and more powerful choice is offered with a 1.5-liter engine that comes with either a five-speed manual or four-speed automatic gearbox. What's not to love about the Nissan Almera's huge interior area and its exceptionally low fuel consumption?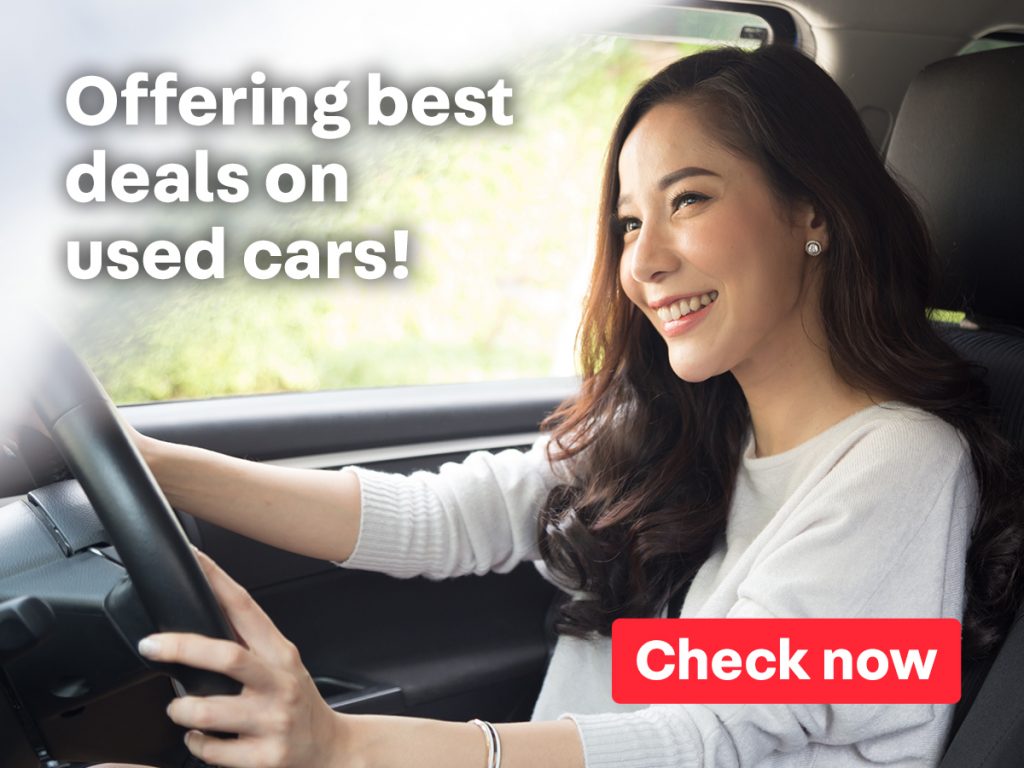 Hyundai Eon (From P230,000 onwards)
The Hyundai Eon is one of the leading entry-level cars available today. It has a modern and elegant look and comes with a wide array of features, such as automated air conditioning, radio with USB connectivity, power steering, and much more.
The Hyundai Eon has long been one of the most popular small hatchbacks in the Philippines. This tiny vehicle caught Filipinos' attention due to its basic and lightweight characteristics, which made it a best-selling crowd favorite in other Asian countries such as Vietnam and Sri Lanka. Its economic value, especially in the second-hand market, adds to its allure. Its low cost, especially when compared to other used models of Hyundai cars, makes it even more popular among fans. The used Hyundai Eon is without a doubt the most affordable car, new or used, on the market in the Philippines.
Since its launch in the local market about eight years ago, the Hyundai Eon has gone through no major changes. This makes a secondhand purchase even more appealing. The Hyundai Eon is a great choice for first-time vehicle purchasers or small families since it comes standard with the essential features needed for regular driving. Don't be fooled by its tiny 3,495mm x 1,550mm exterior dimensions; it's actually roomier than it appears!
Mitsubishi Montero Sport (From P705,000 onwards)
The Mitsubishi Montero Sport is a large SUV that is perfect for off-road driving and long trips. It has a powerful V6 engine, room for up to seven passengers, and plenty of cargo space.
The Mitsubishi Montero Sport is regarded as the Toyota Fortuner's main competitor in the Philippines. The Mitsubishi Montero Sport continues to be one of the most popular SUVs in the country, and there's a lot of demand for a used model. The reason for this is, of course, quite obvious. Despite its disputed mechanical issues in the past, the Montero Sport has swiftly regained popularity in the local SUV sector and continues to be a crowd favorite, especially among Filipino SUV enthusiasts. It's available in four distinct versions locally, with the Sport GLX 2.4 MT, GLS 2.4 AT, and GT 2.4 AT being the most popular models on offer; additionally available is the 4×4 Montero Sport GT 2.4 AT.
Although the Mitsubishi Montero Sport is often regarded as a status symbol owing to its status as one of the most sought-after SUVs, it's also a popular family vehicle known for its passenger comfort and ample interior space all topped off with a powerful but frugal engine that can take you on your next adventure. Why shouldn't you buy a used Mitsubishi Montero Sport when it's possible to get the same high-end features at a fraction of the price?
Toyota Vios (From P538,000 onwards)
The Toyota Vios is one of the most popular and best selling cars in the Philippines for a reason. It's affordable, efficient, and stylish. The Vios is available as a 2×2 or 4×2, so you can choose the configuration that best suits your needs. It also comes with a variety of features, such as air conditioning, power windows, and more.
We don't expect it to relinquish its crown any time soon, as it is the reigning champion in its class category. Since launching in the Philippine market in 2003, continuous improvement has made it a popular choice among Filipinos. The Vios, whether new or secondhand, has shown to be a good selection as a taxi, personal car, or business vehicle.
A well-maintained Toyota Vios is a stylish yet budget-friendly car with so much to love. Aside from being roomy, efficient, and dependable, the adaptable Toyota Vios is one of the simplest cars to maintain. Because of this, a Toyota Vios that has been previously owned is always in high demand. Its appeal is enhanced by its easy-to-find parts that are commonly found in local stores or official service centers. Toyota also has a plant in the country, which means parts are inexpensive. When your car needs maintenance, you can be sure that it won't break the bank if you choose to purchase a preowned Toyota Vios!
Mitsubishi Mirage G4 (From P398,000 onwards)
Another option, the Mitsubishi Mirage G4 is also a popular choice among used car buyers in the Philippines. It is an affordable and fuel-efficient car that is perfect for city driving.
The Mitsubishi Mirage G4 is Mitsubishi's answer to the subcompact sedan category in the auto market. In the used car and repossessed car market, it's also a sought after vehicle. It offers a more muscular and sportier appearance than its hatchback sibling, which is evident from the aggressively raked windscreen and bigger wheels. Despite the fact that its interior isn't particularly roomy, its trunk volume is adequate to store your grocery purchases as well as your weekend excursion essentials. A used Mitsubishi Mirage G4 is a true champion in the metropolis, addressing the problems of many Filipinos: style, fuel efficiency, and value for money! A used Mitsubishi Mirage G4 is likely to be reasonably priced because there is an ample supply on the second-hand market. Are you on a tight budget? One of the best values in the second-hand market is a used Mitsubishi Mirage.
Toyota Wigo (From P457,000 onwards)
The Toyota Wigo is an affordable, entry-level compact hatchback offered by Toyota in the Philippines. With its stylish exterior, fuel-efficient 1.0-litre engine, and affordable price tag, it is no surprise why it continues to be one of the Philippines' best-selling cars. Looking for a budget-friendly vehicle? Get yourself a Toyota Wigo. This tiny city automobile was initially targeted at young urban residents and first-time car buyers, but it has since become popular among Filipino drivers who are on an economical budget as well. For those on a budget who are still hunting for the best prices, a second-hand Toyota Wigo from the market is ideal.
With the awful traffic on the Metro, the Wigo's tiny size is a godsend, allowing you to go anywhere even on narrow streets where larger cars wouldn't dare enter. Are you concerned about having enough area to parallel park your vehicle? Don't worry, because the Toyota Wigo just makes life so much simpler in the parking spots.
Conclusion
When buying a used car, it's important to do your research and take your time in making a decision. By considering the best and most popular used cars available in the Philippines, you can be sure to find a vehicle that is right for you and your needs. Shop and shortlist your next dream ride in the comfort of your home with the Carousell Cars app now!