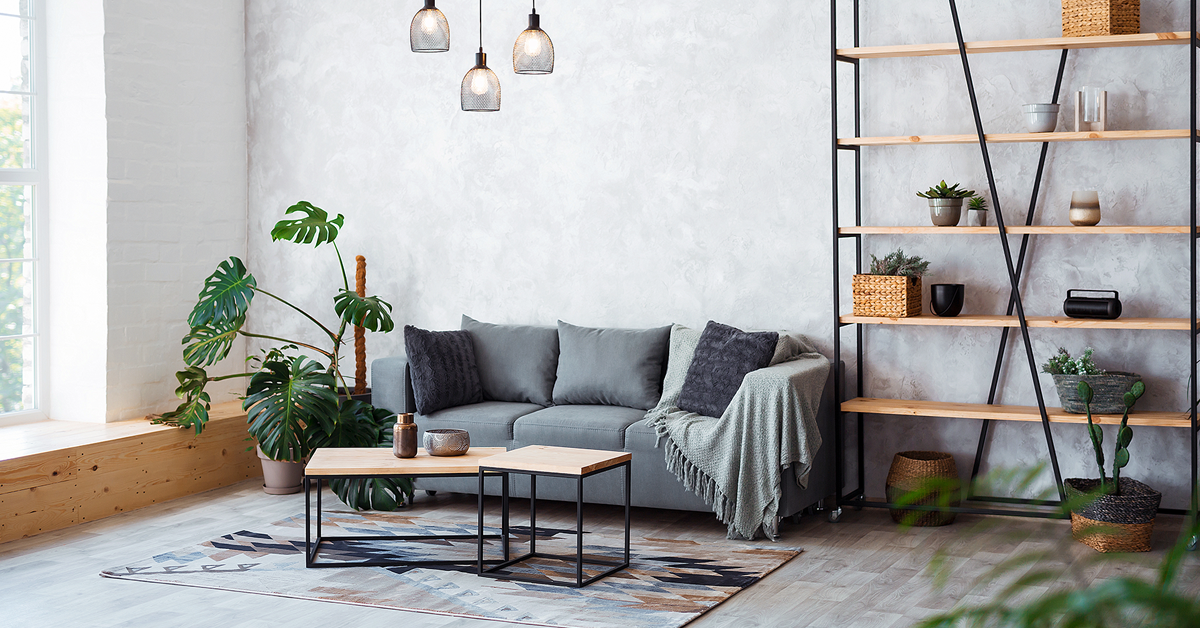 Buying a condo in the Philippines can seem daunting, but it's actually not complicated at all once you get a clearer picture of the steps involved. And also super exciting – honestly, it's so much fun checking out homes for sale and imagining yourself building a life in them!
Here's a step-by-step guide to walk you through the condo buying procedure, from shortlisting your options to financing the property to finally sealing the deal:
How to buy a resale condo in the Philippines?
1. Shortlist potential condos for sale
2. Arrange viewings for your shortlisted condos
3. Reserve the condo unit for sale
4. Enter a Contract to Sell
5. Secure a home loan to finance your condo purchase
6. File the Deed of Absolute Sale with the Registry of Deeds to secure your Condominium Certificate of Title (CCT)
7. File a tax declaration
8. Prepare to move in!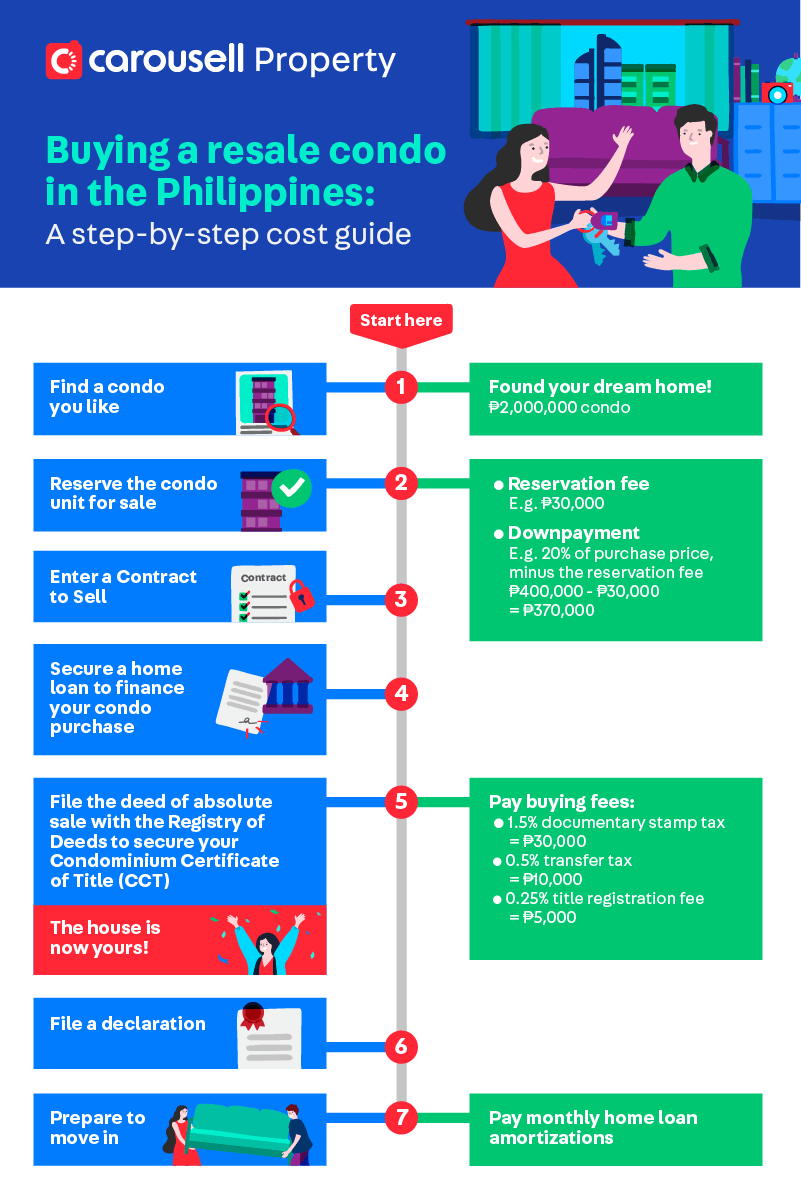 1. Shortlist potential condos for sale
Your budget is definitely going to be a huge factor in this entire process, so working out the actual number would help you filter out the sensible options.
Condos in the Philippines are priced in the millions, but you'll only need to pay 20% of the amount as down payment in the beginning, depending on the kind of home loan you take up. Sounds much more achievable already, doesn't it?
The remaining 80% of the price can be paid for with a home loan, in the form of a bank loan, a Social Security System (SSS) loan or through Pag-IBIG (The Home Development Mutual Fund).
Also factor in buying costs like stamp duty and transfer tax (More on these later!).
Have an idea of the neighborhoods you'd want to live in, or particular condo facilities like a clubhouse or tennis court? Online property platforms like Carousell let you easily filter potential homes based on your needs and wants: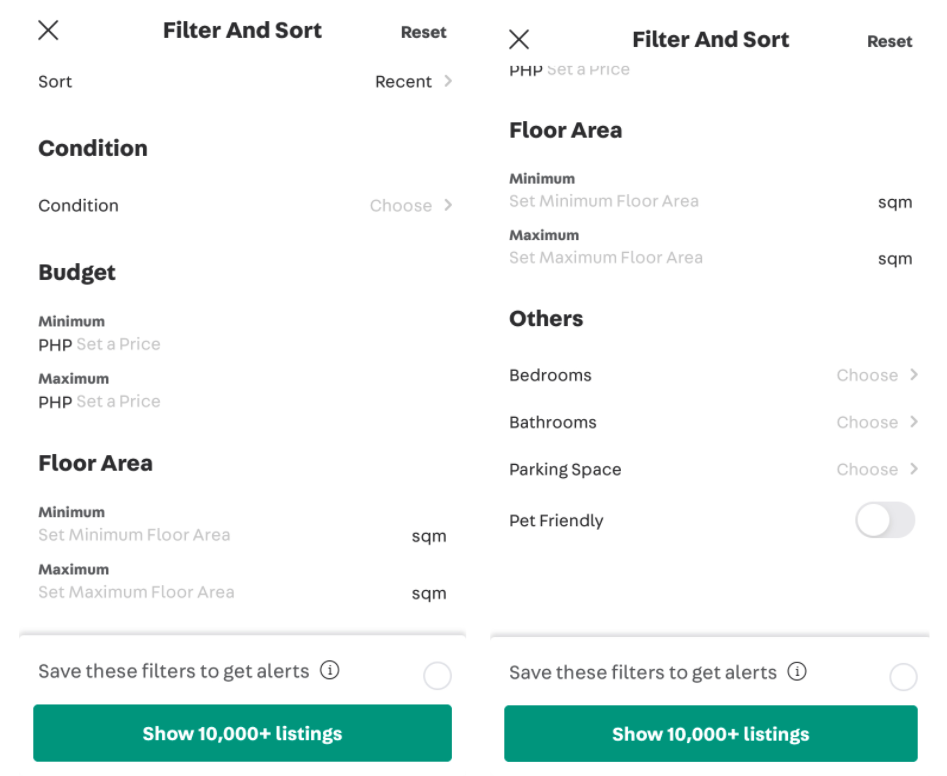 It's also a good idea to engage a licensed broker to help with your property search. A good broker can help you narrow down your search to homes that'll suit you the best. For instance, we might have the tendency to favour a more affordable property over a similar but more expensive one. But for all you know, the latter might be a better investment for certain reasons that only a knowledgeable broker can identify.

2. Arrange viewings for your shortlisted condos
Found a promising condo unit for sale? Get in touch to arrange a viewing!
This is also the time to ask the homeowner or property agent about the house, for instance:
When was the place last renovated? This gives you an idea of the condition of the unit.
How tight is security in the condo?
How is road traffic and noise levels around the condo at peak hours? (In fact, you might want to drop by the area at various times of the day to check it out for yourself.)
What's nice around the neighbourhood? No harm asking for recommendations – building friendly rapport with the owners could make any future negotiations much smoother as well.
Have the owners already bought a new property? They may or may not be willing to disclose this, but if they do, this could give you some indication of how urgently they're looking to sell, which might tell you how much bargaining power you have.
3. Reserve the condo unit for sale
Found The One? Prepare a Letter of Intent (LOI) to formalize your interest to purchase the property. This should include details like the date of your offer, your particulars as well as the seller's, details of the property, the purchase price, and the intended reservation fee (this payment will eventually go towards the down payment of the property).
Also, note that unlike houses & lots, condo units don't come with your own parking lot, and you'll have to purchase or rent it separately if you need one. If you're purchasing it along with the condo unit, be sure to detail that in the LOI as well.
At this point, you haven't got exclusive dibs to purchase the property yet. After the seller agrees with the terms, ask for a Reservation Agreement. This is where things start getting legally binding!
The Reservation Agreement should include the details you initially expressed in your LOI, as well as how long the property is to be reserved for. Once both you and your seller have signed the Reservation Agreement, you'll have to pay the reservation fee, while the seller will have to take the property off the market and cannot offer the property to another buyer for the reservation period (usually 30 days).
Before the reservation period is up, you'll have to pay the remainder of the cash down payment for the condo unit (Which, as mentioned, is minimally 20% of the total purchase price. The down payment required depends on how much you're able to take up as a home loan. For instance, if you're buying a P2M condo and the bank approves your loan of P1.6M, that means you'll have to pay the remaining P400K as cash downpayment).

4. Enter a Contract to Sell
The seller will then prepare the Contract to Sell, a legal agreement between you and themselves regarding the property transaction. In addition to the signing of the contract by both parties, the Contract to Sell must also be attested by a Notary Public.
Your bank or lending institution will need the signed Contract to Sell to process the home loan.

5. Secure a home loan to finance your condo purchase
This is when you should secure your home loan (i.e. contractually obtain the loan), but in fact, you might want to start searching for one even earlier than this, such as once you decide to submit the LOI.
As we mentioned, there are 3 types of home loans, namely bank loans, SSS loan and Pag-IBIG:
Bank loans
Bank loans are the most competitive in terms of interest rates, which range from 5-10% (subject to repricing based on market conditions). Of course, each bank offers various home loans with different loan limits (most banks offer up to 80-90% of the total purchase price of your condo unit), loan term (typically 10-20 years).
Bank loans are also typically more stringent when accessing your eligibility. That said, they've got no reason to turn you down if you've built a good credit record and are in a financially healthy position to own a property.
SSS loan
SSS loans are available for Workers' Organization Members (WOMs) and Overseas Filipino Workers (OFWs).
With the SSS housing loan, you can loan up to P2M, payable in either 5, 10 or 15 years. The interest rate depends on the loan amount: 8% for loans up to P450k, 9% for loans between P450K-1M, 10% for loans between P1M-1.5M, and 11% for loans between P1.5M-2M.
(Here's our step-by-step guide on how to apply for an SSS housing loan!)
Pag-IBIG
This is available to Pag-IBIG Fund members of at least 24 months (as evidenced by the remittance of at least 24 membership savings at the time of loan application), and who are below 65 years of age.
You'll be able to borrow up to P6M, depending on your monthly membership contribution to the Pag-IBIG fund as well as your financial health.
Interest rates range from about 5.5-10% – slightly higher than bank interest rates, but still lower than in-house financing interest rates.
Which is best?
Different home loan clauses cater to individuals with different lifestyles and financial habits, so we really shouldn't be labelling any of these the "best" one. Finding the home loan that's the most suitable for you is super important. You'll be paying the monthly amortizations for your loan for years – it's a long-term commitment! As a rule of thumb, your monthly housing payments should not go beyond 28% of your monthly household income.

6. File the Deed of Absolute Sale with the Registry of Deeds to secure your Condominium Certificate of Title (CCT)
Hang tight, you're almost ready to move in!
A Deed of Absolute Sale, detailing the transfer of ownership of the property, will be filed with the Registry of Deeds once you've complied with the terms and conditions of the Contract to Sell. The terms and conditions will also stipulate that you have to pay these fees:
Documentary stamp tax: 1.5% of the selling price, fair market value or zonal value, whichever is higher
Transfer tax: 0.5% of the selling price, fair market value or zonal value, whichever is higher, for properties located in provinces; 0.75% for properties located in cities and municipalities in Manila
Title registration fee: 0.25% of the selling price, fair market value or zonal value, whichever is higher
Like the Contract to Sell, the Deed of Absolute Sale must also be notarized. The cost of notarizing is 0.1-0.15% of the purchase price of the property, and can be paid either by the buyer or seller or split between both parties.
Finally, the property is legally yours! The Registry of Deeds will process your Deed of Absolute Sale and issue to you the Condominium Certificate of Title (CCT).

7. File a tax declaration
Excited to move in? We'd bet!
You've still got some final logistical stuff to handle though. As the condo unit's new owner, submit a tax declaration to the City Assessor's office. This puts all tax obligations under your name.

8. Prepare to move in!
And with that, you're ready to make yourself at home in your new condo!
Owning a property in the Philippines (or anywhere, for that matter), is a huge milestone, and we hope you've paved a clearer path to reach it after this article! If you're ready to start condo-shopping, we reckon Carousell is a pretty good place to start (no bias)!