Ever considered buying a secondhand car? There are plenty of good reasons why choosing used over a brand new one is a good idea. If you can't afford your desired model at a brand new price, you'll be able to get your dream model at a much lower price. Check these 5 buying a secondhand car tips for a hassle-free experience!
5 Tips for Buying a Secondhand Car:
1. Know Your Budget

First, determine your car budget. Make sure you calculate how much you can afford to spend. Keep in mind regular maintenance and running costs, insurance (which can be around 5% to 8% of the purchase price), and registration. A good rule of thumb is to spend 10% to 15% or your total monthly budget on all car expenses.
Suggested tool: Car Budget Calculator
2. Do Your Research

Search and compare the prices and specifications out on the market of the car's make and model you're considering buying. You can get a pretty good idea of a particular car's market price by browsing cars for sale on Carousell.
3. Contact the Seller

Once a car has caught your eye, don't be afraid to ask the important questions. How long have they had the car? What's their reason for selling? Also, find out if there are any issues with the car beforehand, rather than finding out for yourself down the road. Ask whether any detailing and repairs have been done, and what kind.
4. Inspect the Car

Does it show any signs of damage? Mileage is another important factor to consider. More mileage means more issues. A car with 20,000 km will most likely run for about 25 percent less than brand-new. Check both the mileage and the appearance of the car. The extent of use should match the odometer to ensure that it hasn't been tampered with. Don't forget to test drive it first.
5. Watch Out for "Red Flags"

Request for a copy of the CR and OR. Send an SMS to the Traffic Management Group (TMG number: 2006) to check whether the car is clean or stolen. This also lets you in on whether the car is a recovered car, resulting in a change of plates. Also check if the engine number and chassis are identical to the records.
Another cool way to discover more about a certain motor vehicle is through the Land Transportation Office SMS service. All you have to do is text LTO VEHICLE <PLATE NUMBER> to 2600, and then wait for the LTO's data computers to do the work. See sample text below.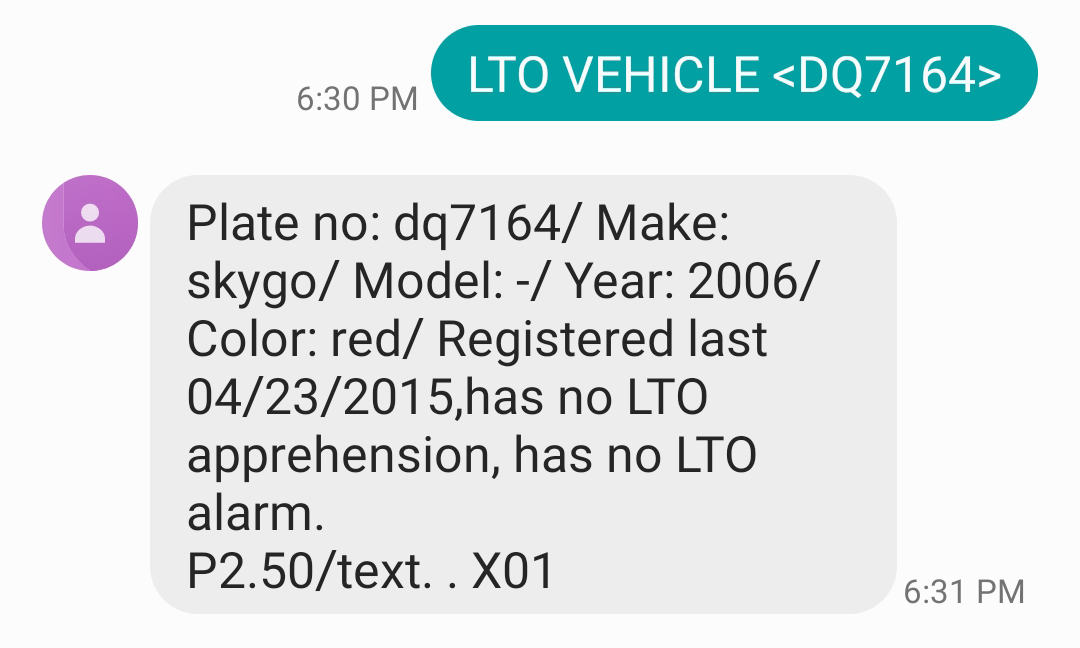 Suggested read: Documents for transfer of car ownership
Found these tips on buying a secondhand car useful? Why not start your search for the perfect ride on Carousell!
A used car doesn't automatically mean it was abused or mistreated. In most cases, the primary owner chose to sell it to either upgrade, downgrade, or buy something more fitting to their needs. If you're aiming for style, functionality, and a great bargain, used cars for sale can be your best friend.
---