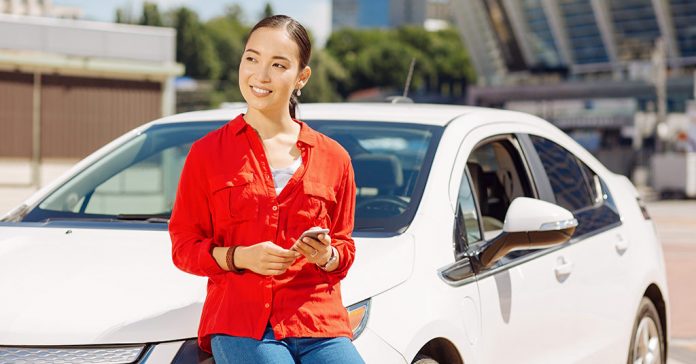 Buying a vehicle is a desire of many people because they consider it a significant milestone in life. And it is.
It's a considerable purchase and costs quite a bit of money, not to mention the fact that maintaining it is also financially consuming. However, owning a car for many people provides the freedom to go and move anywhere and at any time that you want. That's what makes it such a compelling investment for a lot of people.
With that said, there are plenty of reasons to buy a car and there are also a lot of places to buy them from if you're interested. One place to consider buying a used car from is Carousell.
Why You Should Buy a Car for Sale in the Philippines on Carousell
Carousell is an online classifieds platform or marketplace where users can either sell their new or used products as well as buy them. Carousell is home to listings of different kinds so you can find a lot of items to buy here. One of the most popular sections of listings that you can find on Carousell would be its cars for sale series of listings.
By using the used cars for sale listings on Carousell, you'll have access to all sorts of cars, even ones that the car manufacturer in your area probably doesn't have available in their inventory. Therefore, you have a lot more options to choose from.
Aside from that, you can also buy and shop for a car all in one place without leaving your home. You can even talk to the seller within the platform as well. Carousell provides a convenient and fast way for you to find the car of your choice.
One thing of note that you should know about the vehicles for purchase in Carousell is that they sell both new and used vehicles. However, since Carousell's advocacy is all about less wastage and reusability, Carousell encourages a lot of people to consider buying used cars for sale in the Philippines, and Carousell is a great platform to do just that.
What Are the Benefits of Buying a Used Car vs. a New Car?
There are many benefits to buying a used car. One of the biggest benefits is that you will save money. A new car depreciates as soon as you drive it off the lot, and it only gets worse from there. The average new car loses about 20% to 30% of its value in the first year alone, and then it only goes downhill from there.
A used car is a much better investment because it has already depreciated in value, so you can buy one for much less than what you would pay for a new model and still get great quality. Buying a used car also saves you money on gas because they have more miles on them and don't need to be maintained as often.
The main benefit of buying a new car is that it's new, but the main benefit of buying a used car is that it's cheaper.
Steps on How to Buy a Used Car on Carousell
Now that you know why a used car is worth buying and how Carousell can help you buy one from a variety of sources, your next step is to figure out how to use Carousell to buy a used car. 
Well, this guide is here to help you through the step-by-step process of it all. Let's begin.

Step 1: Find the Listings of the Car That You Want to Buy
The first step to buying a car from Carousell would be to look through the many listings of vehicles that are available. There are a ton of vehicles available for purchase so it's a good idea to try and find the listings so that you can narrow down your search to the few vehicles that best fit what you're looking for in a used car.
There are plenty of features on Carousell that are available for you to use to make the search better for you. The main ones would be the pre-set filters that you can use to find listings that specifically fall within these categories.
To help you figure out which one to get, these filters can help narrow down the results.
What do the filters on Carousell mean when buying a used car?
Each of the filters on Carousell have specific meanings so if you plan on using them, it's a good idea to know what they mean. Let's start with the Make filter.

Make filter
The Make filter is a list of popular car manufacturers that you can find in the Philippines. You can choose the specific car manufacturers that you want to buy from and you can choose more than one in the filter. That way, the listings that show up would be those that belong from the manufacturer that you want.
Year filter
This filter will narrow down your listings based on what year these cars were manufactured so if you are looking for a specific model from a specific year, you can use this filter to find it.
Inspected Cars Filter or Vehicles that are Carousell Autos Inspected
These filters show you vehicles that have gone through Carousell's first-hand inspection of vehicles by a professional. There would even be a report attached to the page listing of the used car that you want to buy. That way, you can get vehicles that you know how its performance is going to be and whether they're worth the bang for your buck.
Eligible for Warranty
Cars that are marked as eligible for warranty would be the vehicles that still have car warranties that fall within the eligibility period of their car manufacturer.
Transmission
This filter filters out cars based on their transmission, which is two options: Manual or Automatic. If you prefer one over the other, you can use this filter.
Fuel Type
You can narrow down the vehicles based on the fuel that they use as well using this filter.
Mileage
This filter lets you know the distance that the used vehicle has traveled since its purchase and it can be an indication of its level of use or age.
License Plate Last Number
Another interesting feature on Carousell is that the listings of used vehicles let you know what the last number is on their license plate. That way, you'll know which days these cars are under the number coding scheme and prepare accordingly.
Other factors to look at when browsing the used car listings on Carousell
These filters are a great way to narrow down your results of used cars available on Carousell.  However, you should also keep in mind other factors to look out for when browsing these used car listings. Here are some of them.
Price
The price of the used cars is probably one of the first thing that you would be looking out for from the used vehicles. You can see them first thing on the listings results and you can use the filters to narrow down the results based on the price range that you're comfortable with buying.
Thumbnail Photos
Another factor of the listings that you're going to see first would be the thumbnail photos. Although it's one photo, you can use that to see what type of vehicle is ahead of you. Plus, if the vehicle doesn't have a photo, then that can be a factor that affects whether you continue with this listing or not.
Listing Title
The listing title is also another part of the listings that you can look at to know more about the vehicle. Usually, sellers would include relevant information there such as the year, car model, and even transmission.
Step 2: Check Out the Description of the Vehicle Listings That You've Chosen
After you find a few of the listings of the vehicles that you're most interested in buying, you should then click through these pages to get to know these vehicles better.
There should be a few details in the vehicle's description page that you should look out for to let you know more about whether this vehicle is something that you want to buy for yourself.
What to watch out for in the Vehicle Description section
There are several things that you should look at in the vehicle description section of these page listings.
Often, the sellers or owners of these vehicles would describe their vehicle in terms of the several factors that you probably already know based on the filters, such as the model, year, manufacturer, transmission, license plate last number, and so on.
However, sellers can also put into the description a few critical details relating to the entire negotiation process of the vehicle. For example, they'll let you know everything related to the paperwork for the vehicle.
Other information to look out for in the description would be details of the seller sometimes, which they can include. They might include alternate ways to get in touch with them, but often they can show you their cellphone number.
Make sure that you go through the vehicle's description section so that you can pick up on the critical details of this vehicle that you're interested in buying.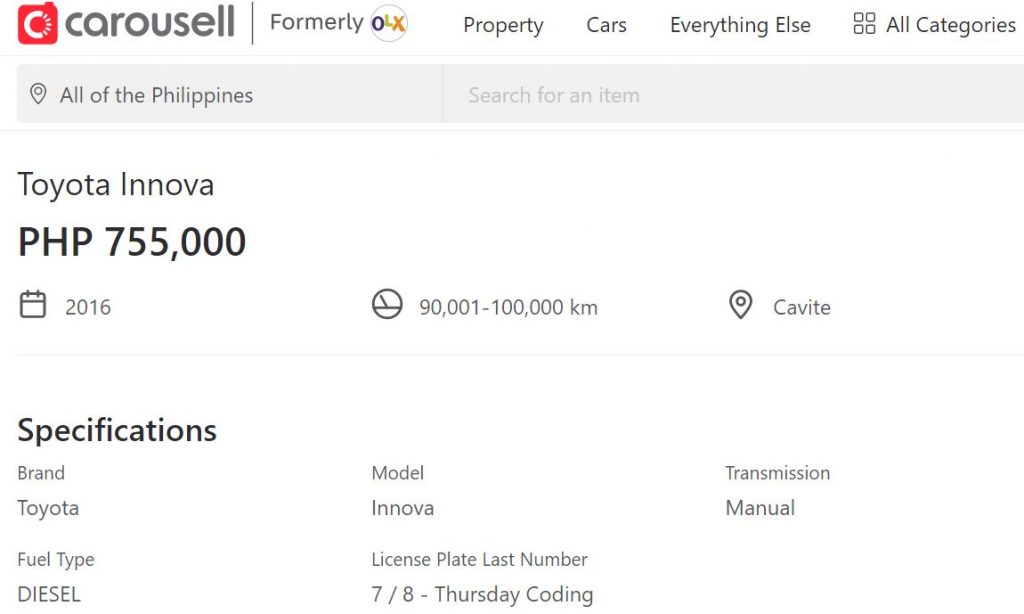 Other notable features on Carousell on the vehicle listing's page
Aside from the main description of the vehicle, there are also other notable features that Carousell provides on the vehicle's listing page. Here are a few of them:
Like feature
The Like feature is present in the form of the heart symbol which you can press to remember the listings that you are most interested in buying. If you can't decide just yet whether you're going to buy them or not, then you should press the Like on it.
Meet the Seller feature
There is a Meet the Seller section on the page that lets you know critical details about the seller of the vehicle. You can see details about them, such as whether they have verified their contact information, previous reviews on the seller, and how responsive they are.
Similar Listings feature
This part of the page would be where you can see other used vehicles that are similar to the one that you're currently viewing. If you're just shopping around, then this is a convenient way to find other similar vehicles.
Step 3: Discuss the Transaction With the Car Owner/Seller
Once you've finalized which vehicle you want to buy, the next step is to discuss the transaction with the car owner or seller to start it.
If you're interested in discussing the transaction with the car owner, then you should first make sure that the seller is someone you want to deal with first.
How to know if the vehicle seller is legitimate?
You should watch out for signs that a vehicle seller is legitimate or at least pleasant to work with before you connect with them. Otherwise, you're going to have to deal with a lot of headaches throughout the process. With that said, here are some of the few signs that you can use to let you know that the vehicle seller is legitimate.
Responsiveness
We mentioned earlier that there is a Meet the Seller section and there is a responsiveness rate available there. You want to work with someone who can respond to your concerns as soon as possible, so if it says that the seller is quite responsive, then that could be a positive sign.
Carousell Autos Inspected Badge
Another way for you to feel more confident when dealing with a seller would be by checking to see if the vehicle has the Carousell Autos Inspected badge on it. Since Carousell serves as a neutral third-party here and if the seller is willing to let their vehicle go through an inspection by a professional associated with Carousell, that can be a positive sign that this vehicle's seller is generally quite reputable. Or at least their vehicle is.
Photos of the vehicle
The page of the vehicle is where you're going to see a lot of the photos of the vehicle from multiple angles. It might be worthwhile to find photos of the vehicle online to see if this seller is not the true owner of the vehicle or if they're copying the listing off of someone else. If they aren't showing a lot of photos of the vehicle, then that also may be a sign that they have something to hide.
Seller's rating
If the seller has sold any other vehicles or items on Carousell, people who previously bought from them might be able to review back what it was like working with them. You can then look at the seller's rating to let you know whether or not they are good to negotiate with overall.
Other ways to contact the seller
During your transactions and negotiations with the seller, one of the most important things that you should know about would be other forms of contact with them.
What's great about Carousell is that there is a built-in chat function so that you can stay in the platform to get in touch with the seller and discuss negotiations. However, it wouldn't hurt to know about other ways to contact the seller. Usually, you can contact them through:
WhatsApp

Facebook Messenger

Email

Text/Call

Viber
There are also plenty of other ways to get in touch with the seller, but asking them directly their preferred method of contact can help clear things up.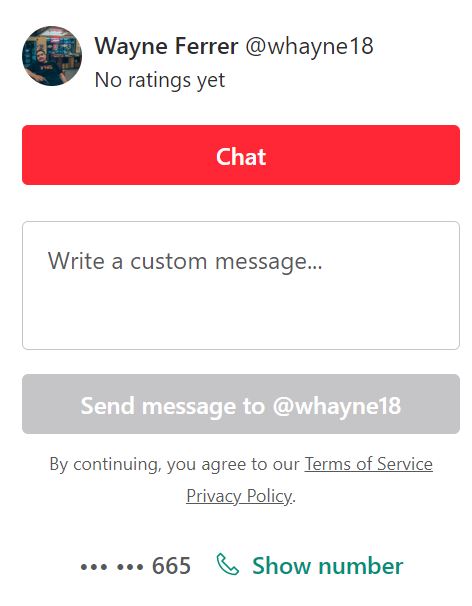 Step 4: Move the Negotiations Offline
Knowing their contact information is crucial since there will come a point when you have to move the negotiations offline.
When should you move the negotiations offline?
Taking the negotiations offline is the next logical step to this process. To know if you're supposed to move the negotiations offline, here are a few things to consider:
You have checked that the seller and the listing is legitimate

You've talked to the seller about any other details of the transaction already

You are interested in buying their vehicle

There aren't any red flags popping up around the seller and the listing
If these things hold true, then it's a good sign it's time to take things offline.
Tips when negotiating offline with the seller
When you take your negotiations offline, you might think that you're already safe, but you can't go wrong with still being careful even during offline negotiations.
Here are a few tips that you should consider:
Make sure to inspect the vehicle with the help of a professional. You'd have to do it yourself, especially if the vehicle itself doesn't have the Carousell Autos Inspected badge on it.

Leverage the market price for the vehicle to negotiate with the seller.

Double-check any paperwork that you need to get from the seller to ensure that you have the genuine article.

Try and get a test drive in before buying.
Following these tips can help you ensure that the used vehicle you're buying is exactly what you expect it to be after purchasing it.
Step 5: Leave a Review Once You Finish the Transaction
After all is said and done, you've got the papers and the vehicle, it's a good idea to leave a review once you finish the transaction.
Leaving a review of the seller can help other potential buyers to either warn them off or give thanks to a seller who was pleasant to deal with throughout the process.
In Conclusion
Carousell is a great place to buy used cars in, and it helps that it's consolidated in one place, which can be harder to find anywhere else.
There are also a ton of tools and features on the platform that can help make it easier for you to find the used cars that you want to buy. Aside from that, you can deal with the negotiations all in one place.
Next time you're on the lookout for your next affordable vehicle, consider buying a used vehicle from Carousell to help you find the right one for you in an easy way. Good luck!