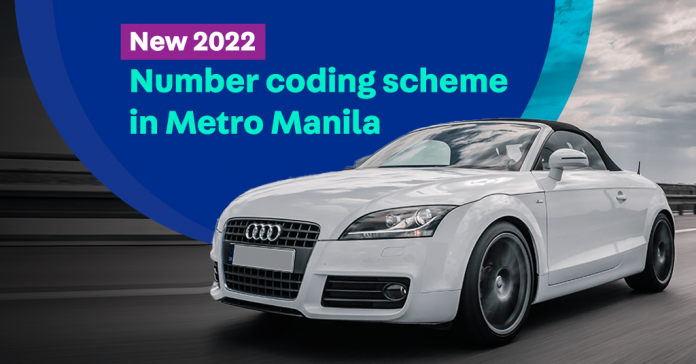 As the country continues to move forward after the pandemic, more and more aspects of our "normal" life are slowly coming back to normal. More people are able to go back to work and some schools are even beginning to facilitate face-to-face classes. There are all sorts of establishments and facilities that are now open to the public.
Given all of these reasons to leave the house, another aspect of our normal life in Metro Manila that's coming back is the traffic.
More vehicles are flocking the roads of the metro and all over the country so more people are finding themselves stuck in traffic once again. Given the number of vehicles in the metro alone, the authorities in place are looking for ways to ease traffic congestion so that there's a better flow of vehicles through the roads in the metro.
One solution that they've made was the number coding scheme.
What is the Number Coding Scheme a.k.a. The UVVRP?
The MMDA or the Metro Manila Development Authority developed the Modified UVVRP to fight against the increased congestion in the metropolitan area. UVVRP stands for Unified Vehicular Volume Reduction Program. It's most commonly called the number coding scheme or even coding for short.
What is a Number Coding Scheme?
A number coding scheme dictates which vehicles are allowed to use the roads in the designated areas. The vehicles that the MMDA prohibits from being on the roads on certain days are based on the last number of their license plates.
What is the Number Coding Scheme for?
The goal of the number coding scheme is to reduce the number of vehicles on the road. Hopefully, with fewer vehicles on the road, there should be less traffic as well. At least, that's what the coding scheme aims to do.
Is the number coding scheme still suspended?
During the pandemic, the MMDA suspended the UVVRP from March 2020 to November 2021. Then, they lifted the suspension and enacted the Modified UVVRP by December of 2021. Since there were a significant number of vehicles that aren't moving around because of the lockdown back in June of 2020, the MMDA found no need to enact the UVVRP so they've modified the UVVRP.
Instead of the usual, vehicles that have two or more passengers including the driver are exempted from the coding scheme under the modified UVVRP. However, since the traffic conditions are worsening again now that a lot of the metro is opening up once again, the number coding scheme is no longer suspended.
What happens if you get caught violating the number coding scheme?
Since the UVVRP or number coding scheme is now in place, if you don't follow their rules and drive your vehicle even if it's prohibited to do so, you can suffer consequences.
When you know what the consequences are, you'll be better able to handle whatever happens to you in case you drive even though your vehicle isn't allowed to.
Fees for the Number Coding Scheme violation
If you do end up violating the number coding scheme, the authorities will fine you around PHP 300 overall. Sometimes it can depend on the area you're caught violating the number coding scheme.
You should pay the fine within seven days or else you'll incur additional charges. It will especially be a hassle when you renew your driver's license and they find that you haven't paid your fine.
Remember that you shouldn't have to pay anything more than PHP 300. There are many conjectures of people who have had to pay more than PHP 1,000 for a one-time violation. Stay calm and know your rights. Unless you have other violations, it likely shouldn't cost more than PHP 300.
Also, let's not perpetuate bribery even further by bribing the MMDA official if you can. You can pay off your fine through several payment channels these days and not just through the MMDA. 
Here are the payment channels available:
Bayad Center

Gcash

GrabPay

Land Bank Link Biz Portal

LBC

MMDA Redemption Center (located at the MMDA building)

SM Bills Payment
When paying your fine, make sure to keep your ticket because you will need the information there to pay your fine. The ticket should include the Ordinance Violation Receipt (OVR) Number, the Violation, the Violation Code, and the Clearance Fee.
These four details are critical for when you need to pay the fee through the various payment channels listed above. They will ask you to input these details before you can confirm the payment of your fine.
Will they revoke your license if you violate the number coding scheme?
No, you won't get your license revoked if you violate the number coding scheme. However, that's only if that's your only offense and it only applies to members of the MMDA.
If you commit another traffic violation before you even managed to resolve other previous traffic violations, then there's a possibility that the traffic enforcer will revoke your license. If you've incurred three or more violations, and then you violate the number coding scheme, they will certainly revoke your license.
Also, if you're involved in an accident, they will also revoke your license. Other violations where the traffic enforcer can revoke your license would be if they catch you allowing another person to use your driver's license, you drove against traffic, and if it's your second offense with reckless driving.
It also depends on the traffic officer that you're dealing with as there are other traffic units that may have the ability to confiscate your license. Only MMDA traffic enforcers have a non-confiscation rule. Other traffic units have different rules to follow and they are able to confiscate driver's licenses, so keep that in mind as well.
What is the schedule for number coding based on the UVVRP?
Now that we've covered some of the ins and outs of the UVVRP, it's time to discuss the schedule in more detail.
Again, the number coding scheme prohibits vehicles to be on the road, particularly during the rush hours, based on the last number of the license plate. Therefore, if you're planning a trip or to drive during these days, make sure that you remember whether your vehicle is not supposed to be driving during that schedule or not.
Remembering the schedule is key to avoiding any penalties and fines, so don't forget them.
With that said, here are the rules or the number coding schedule for the UVVRP: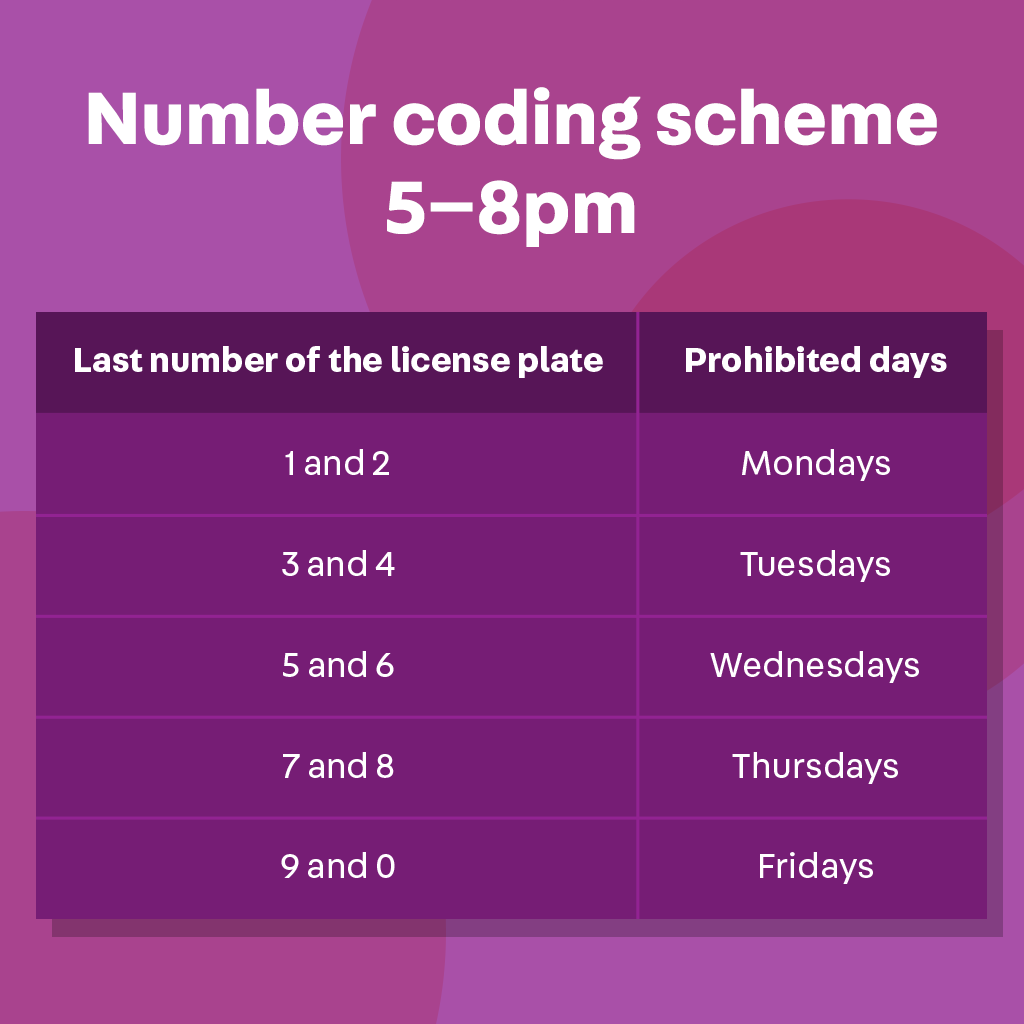 The number coding scheme applies from 5 PM to 8 PM and it doesn't apply during holidays or the weekends. The Metro Manila-wide number coding scheme pre-pandemic happens from 7 AM to 8 PM, but there are also changes to the schedule depending on the location within the metro as some cities have their own rules that they follow. If you're going to be passing through specific cities, then it's a good idea to keep that in mind.
Also, there are window hours in the number coding scheme which we will cover later.
Which areas do the UVVRP cover?
Since the road rationing program is mostly used in high-traffic areas, you can mostly see it implemented in the metro. However, there are also exceptions to it both inside and outside the metro.
For example, some cities outside of the metro that also implement the UVVRP or something similar would be Baguio City, Cabanatuan City, the Cavite province, and Dagupan City. 
Here are the areas that the UVVRP covers:
Coding Areas in Metro Manila
All of the major roads in Metro Manila that are under the jurisdiction of the MMDA are coding areas in the metro. However, some areas might have their own rules like Makati with their coding schedule spanning 7 AM to 7 PM. In Muntinlupa, they only implement the UVVRP along the Alabang-Zapote road.
For the rest, the coding schedule is around 5 PM to 8 PM for now.
Originally, the number coding schedule pre-pandemic was from 7 AM to 8 PM and there are talks of expanding the schedule once again. However, there are no firm decisions coming from the MMDA right now.
Non-Coding Areas in Metro Manila
According to the Department of Transportation, the areas or cities that do not implement the number coding system are the following:
Airport Road in Pasay City

Domestic Road in Pasay City

Marikina

MIA Road or NAIA Road in Pasay City

Muntinlupa (except in Alabang-Zapote Road)

Navotas (except in R10)

Ninoy Aquino Avenue in Pasay City

Parañaque (except Dominique Savio St., Doña Soledad Extension and Doña Soledad Avenue in Brgy. Don Bosco, East   Service Rd. from Dr. Santos Ave. up to FTI Parañaque area, E. Rodriguez St. in Brgy. Moonwalk, France St., Japan St., Michael Rua St., Pres. Aguinaldo St., San Antonio Avenue, West Service Road starting from Dr. Santos Avenue to the Merville Park Subdivision. All of them have window hours.)

Some areas of Buendia in Pasay City

Sales Road in Pasay City

Taguig (except in C5, East Service Road, and Manuel L. Quezon. Only C5 has no window hours.)
These are some of the thoroughfares and cities in Metro Manila that don't fall under the number coding scheme.
What are the UVVRP window hours?
Another point worth considering when you're looking at the number coding scheme schedule would be the window hours as these can provide more leeway for you. Let's first start by defining what window hours exactly are in the context of the UVVRP.
What are window hours?
Window hours are times of the day within the number coding scheme schedule when you can drive through without worrying about violating the coding scheme. The window hours differ from city to city and there are specific rules around them. In general, though, the window hours are from 10 AM to 3 PM.
Also, the window hours don't apply to the Radial Roads, Circumferential Roads, and National Roads. 
Exemptions from the window hours
Although the major roads are exempt from window hours, you can always use secondary roads to get where you need to go. However, make sure to check the area of jurisdiction as not all cities have window hours.
Here is a list of some areas in Metro Manila that don't have window hours:
Circumferential Roads

Las Piñas City

Mandaluyong City

Makati City

National Roads

Pasay City, except Airport Road, Domestic Road, Gil Puyat Avenue on the Pasay side, and MIA Road or NAIA Road.

Radial Roads
No window hours means that you'll be violating the number coding scheme if you drive through these areas in a coded vehicle.
Other Exemptions in the UVVRP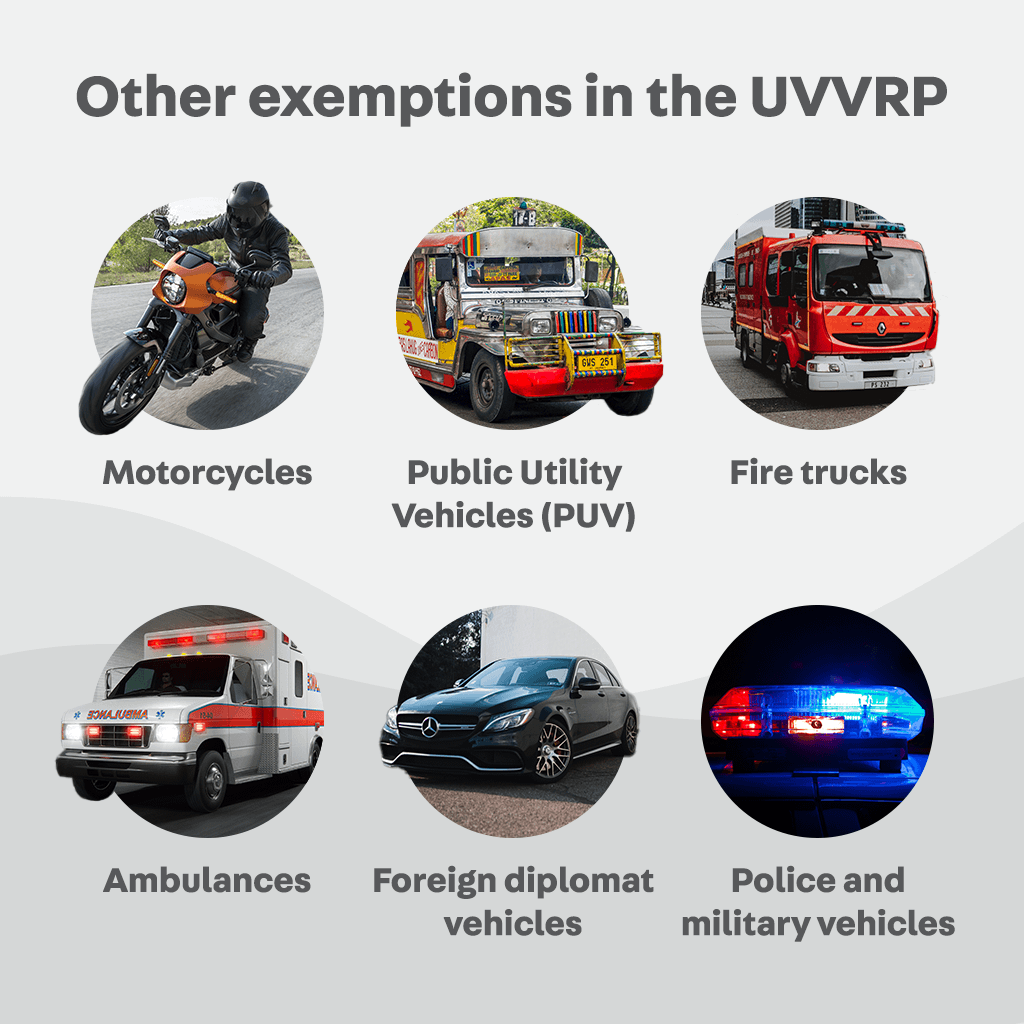 Window hours aren't the only ways to get exemptions in the UVVRP. There are also many cases when you will have an exemption and, thus, won't be violating the UVVRP.
For example, vehicles that are for emergencies or government use are automatically exempt from the UVVRP. Aside from that, here are other conditions that will make someone exempt from following the number coding scheme:
Motorcycles

Public utility vehicles (PUVs)

Transport Network Vehicle Service (TNVS) units

Vehicles with people who need urgent medical attention

Vehicles carrying essential or perishable goods

Fire trucks

Ambulances

MMDA-Accredited tow trucks

Foreign diplomats driving vehicles with diplomatic plates

Official media vehicles

Police and military vehicles
If you're in Makati, senior citizens that have a Blu Card also fall under the exemption.
Medical workers are, unfortunately, not a part of the exemptions according to the 2022 number coding scheme in Metro Manila, so do keep that in mind.
Senior citizens in the rest of Metro Manila aren't exempt. However, they can apply for the exemption. We will cover the steps for those later.
MMDA's (Potentially) New Number Coding Scheme Starting around May 2022
The basic and modified UVVRP is what people usually think of when it comes to the number coding scheme. However, the MMDA has a growing concern over the number of vehicles that are in the metro recently, so they are thinking of new ways to control vehicular traffic.
In fact, they are thinking about a new number coding scheme that they are proposing that may or may not start around May 2022. However, they are still studying the feasibility of this scheme, so don't panic yet.
What is the MMDA's proposed number coding scheme?
The MMDA's proposed new number coding scheme would be that instead of just having one day in a week per vehicle when the UVVRP will prohibit them, it will be twice a week instead.
There are actually two proposals that are under study as of now, but the most popular one that people might have heard of would be the twice-a-week number coding scheme.
The other proposed number coding scheme is the Odd-Even scheme. This scheme will prohibit vehicles with plate numbers ending in odd numbers or even numbers on specific dates.
Why did the MMDA consider implementing the new coding scheme?
The growing number of vehicles on the major roads around Metro Manila is the reason why they are continuing to study possible coding schemes to cut down on vehicle numbers during the week.
When does the MMDA plan on implementing the new coding scheme?
It's good to note that these proposed new number coding schemes are still under study. Therefore there are no formal regulations in place for them just yet. However, there were talks of it happening in May 2022, but MMDA officials have clarified that there are no official rulings in place as of yet.
What is the new schedule for the MMDA's proposed coding scheme?
The two different proposed MMDA number coding schemes have different schedules.
For the Modified New Number Coding Scheme:
| | |
| --- | --- |
| Last Number of the License Plate | Prohibited Days |
| 1, 2, 3, 4 | Mondays |
| 5, 6, 7, 8 | Tuesdays |
| 9, 0, 1, 2 | Wednesdays |
| 3, 4, 5, 6 | Thursdays |
| 7, 8, 9, 0 | Fridays |
As you can see, vehicles now have two days in a week when they are prohibited by the number coding scheme in Metro Manila.
For the Odd-Even Number Coding Scheme:
| | |
| --- | --- |
| Last Number of the License Plate | Prohibited Days |
| 1, 3, 5, 7, 9 | Mondays |
| 2, 4, 6, 8, 0 | Tuesdays |
| No Coding Days | Wednesdays |
| 1, 3, 5, 7, 9 | Thursdays |
| 2, 4, 6, 8, 0 | Fridays |
According to this scheme, vehicles can't travel on their coding days between 7 AM to 10 AM and 5 PM to 8 PM.
Exemptions for the new 2022 MMDA coding scheme
For the new coding schemes, exemptions are the same as before. At least, this will be the case unless the MMDA creates a new list of exemptions if they make these new schemes official.
How Does the New Scheme Affect Motorists?
It's important to mention that these proposed schemes are still under study. The Metro Manila Council has to approve of it first anyway before it becomes official. However, this doesn't stop motorists from reacting to these new coding schemes.
Motorists' response to the new MMDA number coding scheme
Many of us who use private vehicles to move through Metro Manila will have a hard time adapting to the new number coding scheme, especially when there are two days out of the week when you can't use your vehicle.
Employees and more will find it difficult to figure out what they're supposed to do when they can only use their private vehicle three days out of the weekdays.
Many people who have the budget for it are now considering buying new vehicles to respond to the new coding scheme.
MMDA and the LTO plan to discourage purchasing new vehicles as a response to the new coding scheme.
Of course, since many people have begun to have an interest in buying new vehicles to combat the coding scheme, the MMDA decided to team up with the Land Transportation Office (LTO) to fight back.
They are now in discussions on making sure that households that own a vehicle and are planning to buy a new one end up with a license plate that ends in the same number as their old vehicle. Thus, blocking them from the reason why they might be interested in buying a new vehicle in the first place.
Tips on How to Overcome the New May 2022 Number Coding Scheme By The MMDA
Not everyone can afford to buy a new vehicle to combat the new number coding scheme. Even the people who can find themselves blocked by the MMDA and LTO because of their idea of giving the same last number in the license plate of those buying new vehicles.
So, what other solutions can you have in case the new MMDA number coding scheme 2022 in Metro Manila pushes through?
Use Public Transport
Many people who don't own private vehicles use public transport instead. If the proposed coding scheme pushes through, you, too, can use public transport on the days when you can't use your private vehicle.
Of course, many know the hardships of using public transport in the country, so some people opt to use motorcycles, e-bikes, or normal bicycles instead. It's still kind of a private vehicle, but of course, there are challenges to using it as well, such as poor infrastructure.
Rent a Car
If you still want to ride a car or a private vehicle, you can also rent a car. You don't have to buy a new car and you get to circumvent the MMDA number coding scheme 2022 as well. You also get the luxuries that driving a private vehicle offers.
However, there are challenges to this as well, such as how some areas don't have easy access to rental cars in their area. You also have to pay every time you rent a car, which is an added expenditure that you have at least twice a week if you do this regularly.
Carpool
Another solution that you can do is to carpool with someone. You can get in touch with friends and coworkers who are headed to the same place as you and share the car.
Again, there are challenges to this, such as not being able to control where you're going to go if you are driving other people or someone else is driving you. Also, you can only do this if you know another vehicle owner.
Apply to Be Exempted From the New Coding Scheme
If you think you can qualify, you can also apply for an exemption from the new coding scheme. The MMDA coding accommodates all sorts of people when it comes to exemption applications.
Who can apply for an exemption?
The people who can apply for an exemption would be medical workers, senior citizens, media practitioners, company shuttle services, school buses with LTO markings, DOT-accredited vehicles, and individuals who transport either people with special needs or perishable goods. Otherwise, you likely can't apply for an exemption from the number coding scheme.
How to apply for the new number coding scheme exemption?
If you are interested in applying for the exemption from the MMDA coding, here are the steps you need to follow:
Submit a letter of request. Make sure that you address your letter of request to the Office of the Chairman – MMDA. 

Go to the MMDA Main Building located in Makati to submit your letter of request.

Get a photocopy of the OR/CR of your vehicle and submit that as well. Wait for the approval.

Once approved, you should pay around PHP 300 to PHP 1,000 for private vehicles or business vehicles at the Treasury Department of the MMDA Building. The exemption period will cover you between either January 1 to June 30 of the year of application or July 1 to December 31 of the same year.
If there are no hiccups, you should be good to go.
Use Carousell to Purchase Second-Hand Cars
If you've been planning to buy a car anyway, but also want to circumvent the coding scheme, then you should consider purchasing second-hand cars.
What are second-hand cars?
Second-hand cars are vehicles that have previous owners and have varying degrees or levels of usage. Once you finalize the transaction you can start processing the transfer of ownership to you.
Benefits of buying second-hand cars to combat the new number coding scheme:
The benefits of buying a second-hand car are aplenty and it's also a viable option to help you overcome the new number coding scheme just in case it does end up happening. Here are a few of the benefits of buying second-hand cars:
They're affordable:

Because you're not buying a new vehicle, you will reduce the expenses that you need to become a vehicle owner.
The License Plate Number stays the same:

By buying a second-hand or used car, you don't have to worry about the license plate because you can simply shop around for the vehicle that has the plate number that you want and can help you travel during your first car's coding schedule.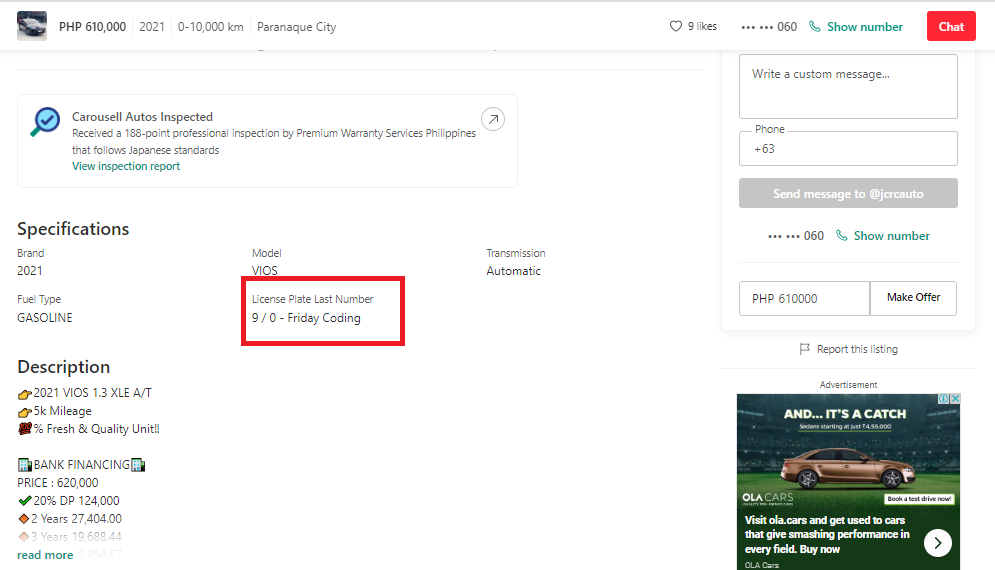 You can find the last number of the used car's license plate on the Specifications section of the Carousell listing.
Most of the vehicle's depreciation is over:

If you plan on reselling the vehicle, you won't have to worry as much about how big the gap is between your purchase value for it and its resale value.
You get more car model choices:

When you're buying new vehicles, you're constrained by your budget a lot. However, if you opt to buy used cars, there are a lot more vehicles that fall within your budget.
Given all of the benefits of buying a second-hand car, it's a viable option not only for avoiding the potentially new number coding scheme, but it's also a great option for alternative transportation options.
Conclusion
The number coding scheme in Metro Manila can be confusing, especially with the window hours and different rules per city. If changes are about to happen, then that's another set of adjusting that vehicle owners need to do.
However, by being more knowledgeable and knowing what you can do in case of another set of changes to the number coding scheme, you shouldn't have to stress as much about it every time you have to use your car to travel the metro.
So, travel freely and safely. Feel free to go through the guide whenever you need a refresher and take your time shopping with Carousell's listings for all your vehicular needs too.