It's crucial to know tips on buying a second hand car safely, especially if it's your first time to do so. While new cars fresh from the dealership are guaranteed to be in tip-top shape, a 2nd hand car has a history you need to scrutinize to make sure it's turned over to you in great condition. 
Still, both have their other pros and cons. If you are on a budget, well-maintained, second hand cars are a practical choice as it is relatively cheaper vs. opting for a 2022 model. On the average, a car depreciates by 14% yearly!
If you're not sure how to assess the real condition of a car, review a vehicle's listing specifications, or don't know a trusted mechanic for inspection yet— these are our top tips to understand how to pick the best one without any unwanted surprises.
Suggested read: How to buy a used car on your own (A 7-Step Guide)
4 Safety Tips When Buying a Second Hand Car:
1. Look for reputable car owners or second hand car dealers
Just like in any big agreement, trust is a big factor for a smooth transaction. While there's a ready sales person to assist for new cars in Toyota or Honda dealerships, it may not always be the case when buying a used car. Sometimes, you'd have to choose and deal with a previous owner on your own. 
Searching for sellers is now easier online! Marketplace platforms like Carousell have a user review system to give you an idea if he/she is great to deal with. Car specifications are also listed for verification.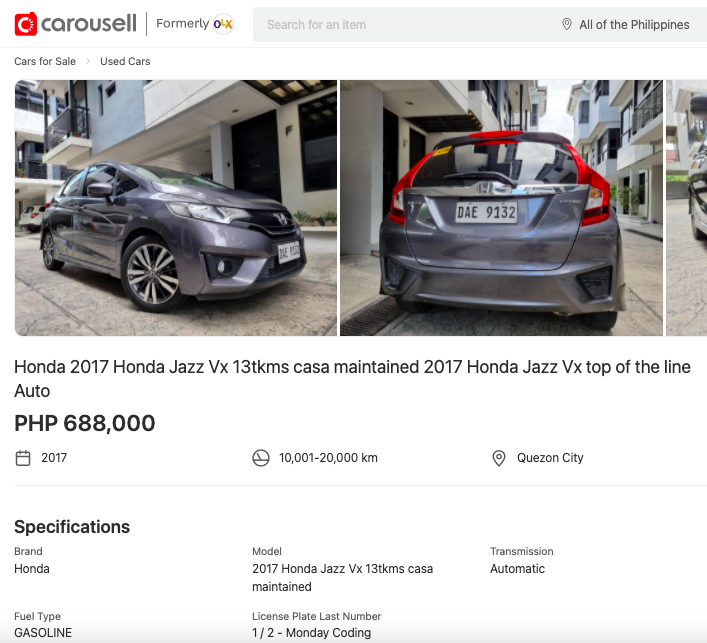 Aside from direct owners, we also have secondhand dealers like Ugarte Cars Manila, JCRC Autos and Kotse Network who are trusted in the industry for your added peace of mind.
If your eyes are set on the car, do build a relationship with the owner or secondhand dealer. Set a call with him/her first and verify if the information about the car is correct. The set appointments to view and test drive the car.
Here are some car details you must double check:
What is the car's mileage?
What is the car's maintenance history?
Any major repairs or current issues?
Was it flooded in the past?
How old is the car?
How is the condition of these vehicle parts?
Is he/she the first owner of the car, or also secondhand?
If you're not as well-versed in must-check car specifications and need more guidance, tip #2 will certainly be of help!
2. Get the car inspected with the help of experts
When purchasing a used car, it's natural for an inexperienced buyer to have worries in mind. 
Some people don't know how to accurately inspect a vehicle's quality. It's even harder if you don't know a trusted mechanic who can help. Since we live in the Philippines, especially Manila, it's also crucial to know if the car has been damaged by flood.
If you relate to these pain points, we have good news! Carousell has recently launched Autos Inspected to assure the car is in great condition, at zero cost. This game-changing and new concept in the Philippines is in partnership with Premium Warranty Services Philippines, Inc., the no. 1 automotive warranty provider in Japan.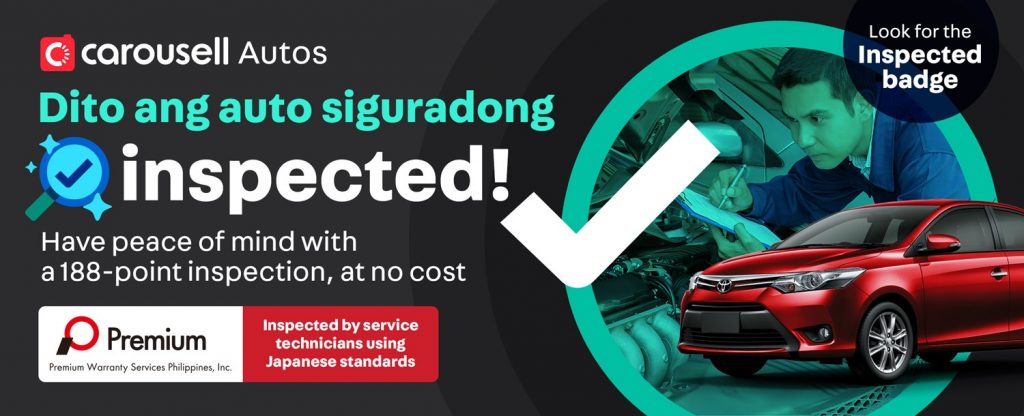 What is Carousell Autos Inspected?
Know the real condition of the used car before you decide to buy, with the help of trained experts.
How does Carousell Autos Inspected work?
Carousell Autos Inspected is a thorough vehicle inspection conducted by Premium Warranty Services Philippines, Inc., a company originating from Japan. The inspection is conducted by trained service technicians using Japanese standards to ensure quality of the car before you decide to buy. It covers:
A 188-point inspection car check-up that includes body, mechanical and electrical systems
Verification of the vehicle registration details
Coming Soon: Some of these inspected vehicles could be eligible for Premium Warranty if its condition meets the requirements.
Is this feature free?
Yes 100%. You don't need to pay to buy or check our Carousell inspected cars.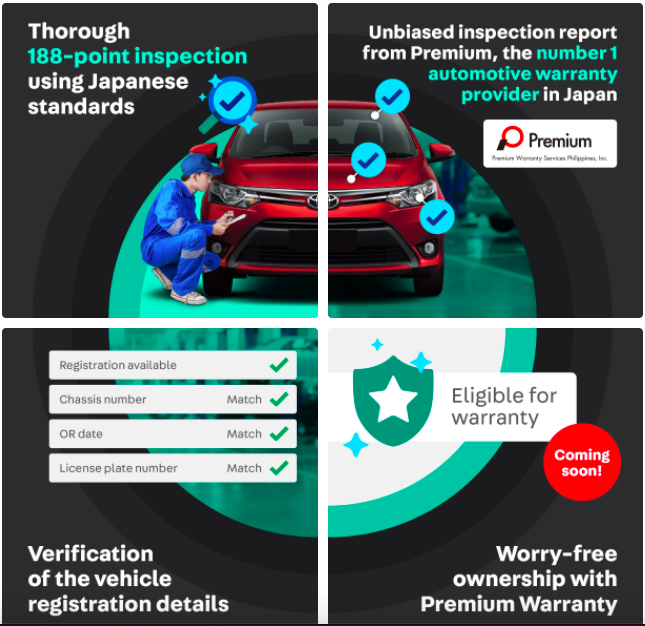 How do I find these Carousell Autos Inspected cars?
All you have to do is to look for the "Carousell Inspected" badge in the listings. Sounds exciting? You can also click our special collection to check out cars with the official inspection report by clicking the button below!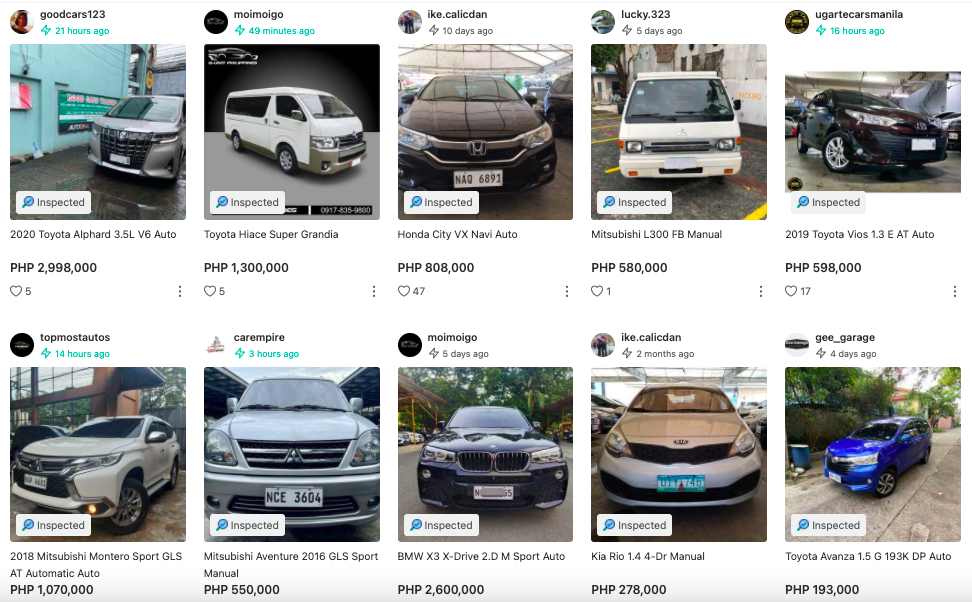 3. Ensure the necessary car documents are complete
Now that you've verified the car's condition, another important step is to ensure that the necessary documents are clean before sealing the deal. Do work on these with the seller closely to avoid any inconvenience after the sale.
Here are the documents to prepare that we've covered under transfer of ownership in our past car buying guide:
Release of Chattel Mortgage (if car has an active loan, otherwise check if past owner has settled it fully)
Original Office Receipt and Certificate of Registration from Land Transportation Office (LTO)
Philippine National Police – Highway Patrol Group Clearance
Deed of sale with assumption of car mortgage
Latest Official Receipt of Payment for the Motor Vehicle User's Charge
Compulsory Motor Vehicle Liability Insurance (CTPL)
Approved Motor Vehicle Inspection Report (MVIR)
4. Trust your gut and watch out for any other red flags when buying a second hand car
While knowing the above tips are great, there are also warning signs that may pop up during early talks or negotiation. If you feel something is off upon observing these cues, trust your gut and check new prospects. The promise of an insanely low price, or owning your car ASAP may be enticing, but safeguarding your hard-earned money is more important.
Red flags to be mindful of when buying a secondhand car:
Seller wants to close the deal too quickly
Seller keeps avoiding inspection talks
The car's price is super low vs. market value
Undeclared repairs history or body modifications
Missing car records
Suspicious water lines or discoloration in the car's interior
Take note of these tips on buying a second hand car to have a worry-free transaction
Buying a secondhand car may be daunting at first, but don't worry. With the right knowledge and help of Carousell Autos Inspected, owning your dream car will be one step closer to reality. Stay safe while transacting and feel free to have a look at more quality used cars in the Carousell marketplace. Happy browsing!