Welcome to Carousell!
Millions of users have already experienced the magic of buying on Carousell and soon you can too! Just follow this buying guide to learn how you can use Carousell for smarter purchases and potential savings.
By the end of this guide, you will learn about: (you may click the links below to jump to the topic on this page)
Building your profile 
In Carousell, you're not dealing with expert sales merchants but your everyday person. Behind every product is an actual person from our community selling their items and it's important to build your profile to build trust in the marketplace.
Verification makes you a much credible buyer. Besides verifying your account, Carousell has a rating and review system that will help you build your credibility which we will explain later.
Finding what you are looking for on Carousell 
Getting what you want to buy is so simple with these steps: 
Search – Make use of the filters to narrow down your search results 

Categories – Shop your interest categories and discover products you like

Daily picks – Recommended items curated just for you

Special Collections – We curate collections based on weekly trends for you to shop at ease
Carousell has thousands of unique rare collectibles that you can't easily find at retail or at the malls.  Fun fact: These brands aren't shipping in the Philippines but you can find them on Carousell for a much cheaper price: IKEA, Glossier, Love Bonito — add more! 

How to deal safely on Carousell 
Carousell is a community-centric marketplace. The sellers are people just like you and I. You'll get to buy from real people, so shopping on Carousell is much more personable and fun! Many buyers on Carousell even make friends with sellers through shared hobbies and common interests.
Fun Fact: Carousell app has groups where you can interact with other users with the same interest like K-POP (anyone from BTS army?), Funko Pop or Seiko Watch collectors. You can even buy and trade similar items with users there! 
Without further ado, let's find out how you too can kickstart a meaningful shopping experience on Carousell!
How to start buying 

Making an offer to the seller on Carousell 

Completing a Carousell deal 

How to use the Rating and Review System of Carousell
Start buying by chatting with sellers
The first step to buying on Carousell is as simple as saying "Hi, I'm interested!" Just imagine chatting with your friends on Whatsapp or any other messaging app.
In Carousell's in-app chat, you can ask the seller more questions about the item. You can also discuss the details of the transaction, such as method of payment and meet-up location before making an offer.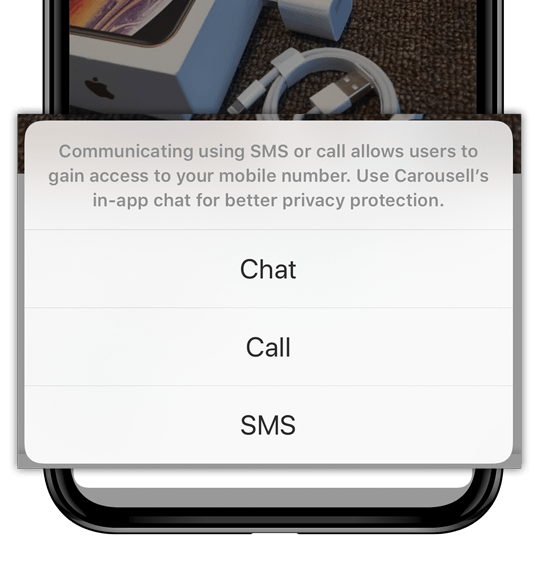 We strongly recommend not to bring communication outside of the platform. This is so that all records of your transactions are kept within Carousell and can be retrieved should there be a need to.
Making an offer to the seller on Carousell 
Once you're ready to buy the item:
In the chat with the seller, select "Make Offer"

Then, select the price and enter the price agreed upon (if it's not the stated price)

Select "Make Offer"
Making an offer is like entering into a formal deal with the seller. Once the seller has accepted your offer, it is not in the spirit of Carousell to back out of a deal.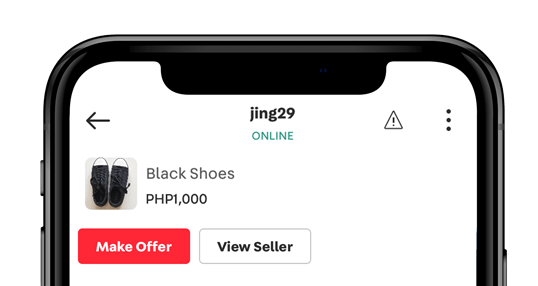 Hence, make an offer only when you can follow through with the deal. Make sure that you have clarified all questions about the item, and that both you and the seller have agreed to all terms of transaction.
Select "Submit Offer" to confirm, and you're done!

Upon the seller's acceptance of your offer, both you and the seller can now leave a review for each other to share your transactional experience!
After the transaction, make sure to leave a review since reviews help build your credibility! 
The Ratings and Reviews system is a tool to help buyers and sellers learn about the credibility of a Carouseller, as it shows his transactional experience with other members of the community.
Leaving reviews for one another is one of the best ways we can help each other. Praise a fellow Carouseller for an exceptional experience or let them know if there are ways they can improve. Help our community by sharing your experience with others! 
Here are the steps to follow when  leaving a review: 
Once the seller  selects "Accept offer", you should see a "Leave a Review" button.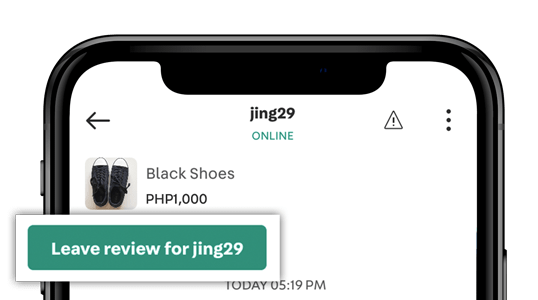 Both buyers and sellers have 14 days to leave a review. You may edit your review before it's published. Your review will not be published until the other party leaves theirs, or until 14 days have passed. Once published, reviews cannot be edited or deleted. After 14 days, you will no longer be able to leave a review for that transaction.
Important note: Remember to make an offer and acceptance BEFORE marking an item as "Sold"! Once an item has been marked as "Sold", offer and acceptance can no longer be made and users will not be able to exchange reviews.
For more information, you may read our Ratings and Reviews Policy. 
How to make payment and arrangements on Carousell 
Carousell is not involved in payments or delivery. You can arrange for payment and delivery with the seller via chat, as mentioned earlier on.
Here are some suggested methods for payment and delivery:
Bank transfer and mailing/courier

Cash on delivery and meetups
For more information on delivery rates, check with the courier service of your choice. Check out this list of available courier services this quarantine here.
Want to know how to deal more safely and securely on Carousell? Be sure to check out our safety tips!
Testimonials 
We here at Carousell aim to make it easy for you to buy and sell online. Whether you're selling for extra income, to finance a dream or to buy something on your wishlist, we love hearing your stories. Read  some of the stories of our Carousellers that continue to inspire us to give you a vibrant buy-and-sell community. 
We also have celebrities and influencers who have discovered the magic of selling their items like Maine Mendoza, Carlo Ople, Belle Daza and more! Check out the #CarousellCrew and their Carousell stories. You'd be surprised by how much you've got in common when it comes to shopping online. 🙂