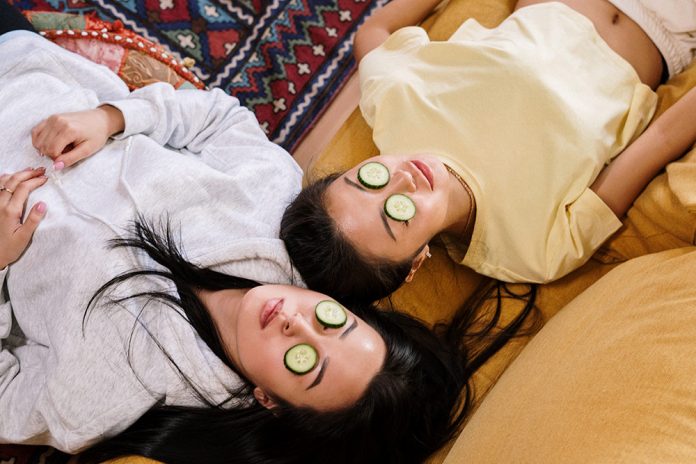 Under normal circumstances, staying at home is a luxury to be cherished. Being forced to stay home, on the other hand, can get quite frustrating. With nowhere to go and no one to meet during the community quarantine, how does one stay sane? When I find my thoughts wandering, I ground myself by practising mindfulness and gratitude. Sounds corny, but it really does help – you should try it! After all, the benefits of gratitude are well-researched. As Marcus Aurelius wrote in Meditations, 
"You have power over your mind – not outside events. Realise this, and you will find strength." 
With that, I looked at what happened around me and within the community. These are the seemingly "simple" things that I'm grateful for and how platforms like Carousell has helped.
1. I'm grateful for all the times my Mama forced me to watch her cook 
There was always something I'd rather do instead, but I'm SO glad she insisted that I watch her cook adobo, make lumpia, and bake cookies. When my favorite restaurants like Manam closed for a while, I knew enough to make those sinful meals I craved.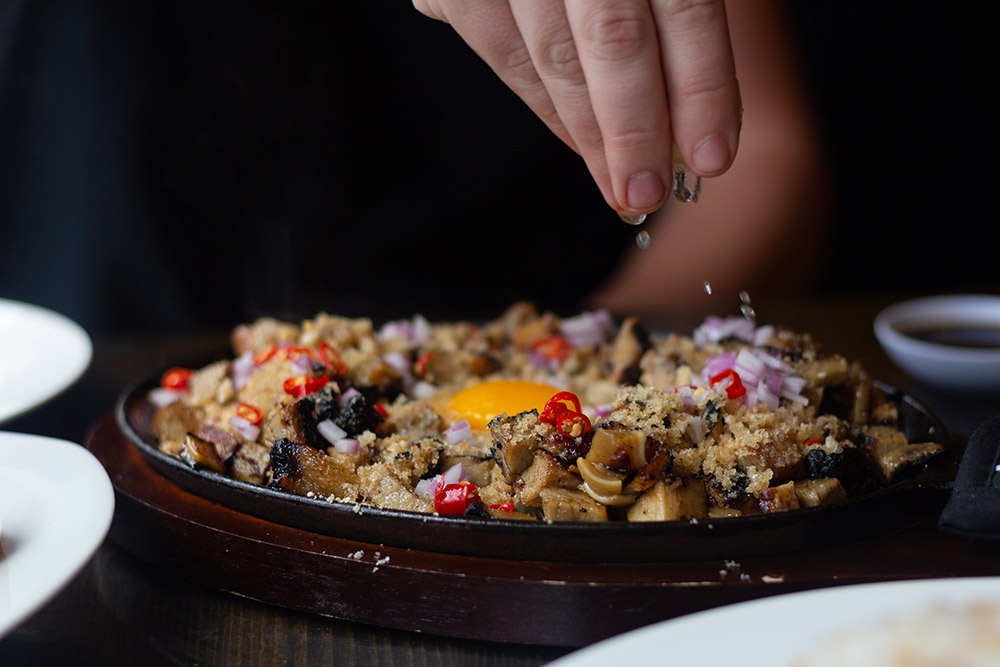 No SM Store nor Robinson's to buy the baking trays and hand mixers now that everyone's suddenly a pastry chef? Carousell had so many baking trays just WAITING to be sold. Even flour could be bought off Carousell – there was no need to hoard! 🤯There's no need to line up too. You can definitely start making your own ube cheese pandesal or chocolate chip cookies without leaving your home.
2. I am thankful there is a way to make a little bit of money 
With the recession upon us, our jobs don't seem as secure as before. To earn a little bit more to cover my expenses, I've started selling things I no longer need or use. The pick-up rate on Carousell has been quite good, actually! I've sold a couple of items like my preloved books and winter jackets that I might not be wearing soon, and this money goes into my food delivery pot.
I've also started selling the food I've been making to make ends meet. I, along with other sellers of homemade food, have been thankful for Carousell. Since they launched the food & drinks category, there are now a lot of people selling meals, fresh produce, and snacks!
3. I am grateful that I can do little acts of service to make the people around me happy
It's hard to express how much I appreciate my loved ones, now that I cannot meet and spend quality time with them. But who said that's the only way to express care and concern, right? 
I was inspired by the many people using local delivery services to send food and care packages to their loved ones. There were people who sent toys to keep their nephews and nieces occupied – there are just so many thoughtful gifts available out there once you start looking. 
And for once, everyone was home to receive their "contactless delivery" package. Yay!
4. I'm glad that if I needed anything urgently, there are platforms to help me get it 
Our homes are for living, not so much working, given the amount of space we have. With no work desks and proper chairs, and our for-recreational-use Wi-Fi, working from home took a heavy toll on many of us. Usually, making a trip down to my telco or a furniture store would have solved the problem. However, we couldn't go out, we had to find other solutions. 
Some of them include regulating who uses the Wi-Fi while waiting for the Wi-Fi repeater we bought on Carousell to arrive via contactless delivery (waiting for international sellers to save me would've taken forever) and buying almost-new furniture from sellers within my area.  I recently bought an office chair and now my back is thanking me for that! 
5. I am thankful that I can choose to work from home 
Working from home is a privilege that I'm very thankful for. Not everyone has this option, whether it's because they're an essential worker or simply cannot afford to. Despite the initial hiccups re: Wi-Fi and proper furniture, working from home was otherwise a good opportunity to observe my own habits and pace myself better. 
Side benefit: It also allowed me to see my sister in work mode and listen as he spoke in straight business English. Who is this person, talking like that?! Turns out i'm not the only one: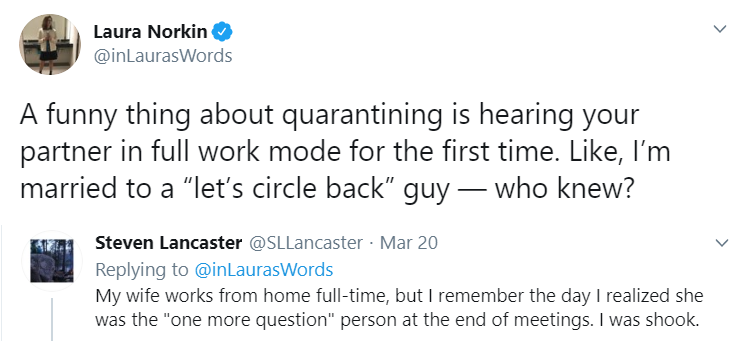 6. I appreciate the different ways I can occupy myself
Despite knowing that I'm blessed in so many ways, it can get quite depressing not knowing when this whole COVID-19 situation will be over. Worrying about my job, family, and my workmates, also made me even more anxious. 
Thankfully, there are so many websites where I can play games with my friends over  virtual party and companies who uploaded free e-learning courses so I could spend my time more productively, rather than worry incessantly. Plus, now that I'm always home, I've started growing my own indoor garden. You can start with mini succulents too! 
7. Ultimately, I am grateful for the gift of health
Initially, not having access to a gym or studio or even parks during the quarantine was unsettling. Thankfully, there are exercises online (#ChloeTingChallenge, anyone?) to practice at home. Studios like Ride Revolution, Perigon and Electric Studio even hosted live workouts on Instagram we could follow, giving us a semblance of a community. 
When all the weights, resistance bands and kettlebells were sold out, I improvised, using milk bottles as weights. Resistance bands… well, Carousell has plenty of coloured ones to buy. 💪
In all, this community quarantine made me realize that I am more adaptable and independent than I initially thought. It's weird, but I have gotten so used to this "new normal" that going back to the office actually feels mildly daunting. 
COVID-19 may have put all of us under a lot of stress and induced many lifestyle changes, but I hope some of these reflections can be used as starting points for you to think about how meaningful your time during this period really was.
(Article by Audrey Martinez from the Carousell team)