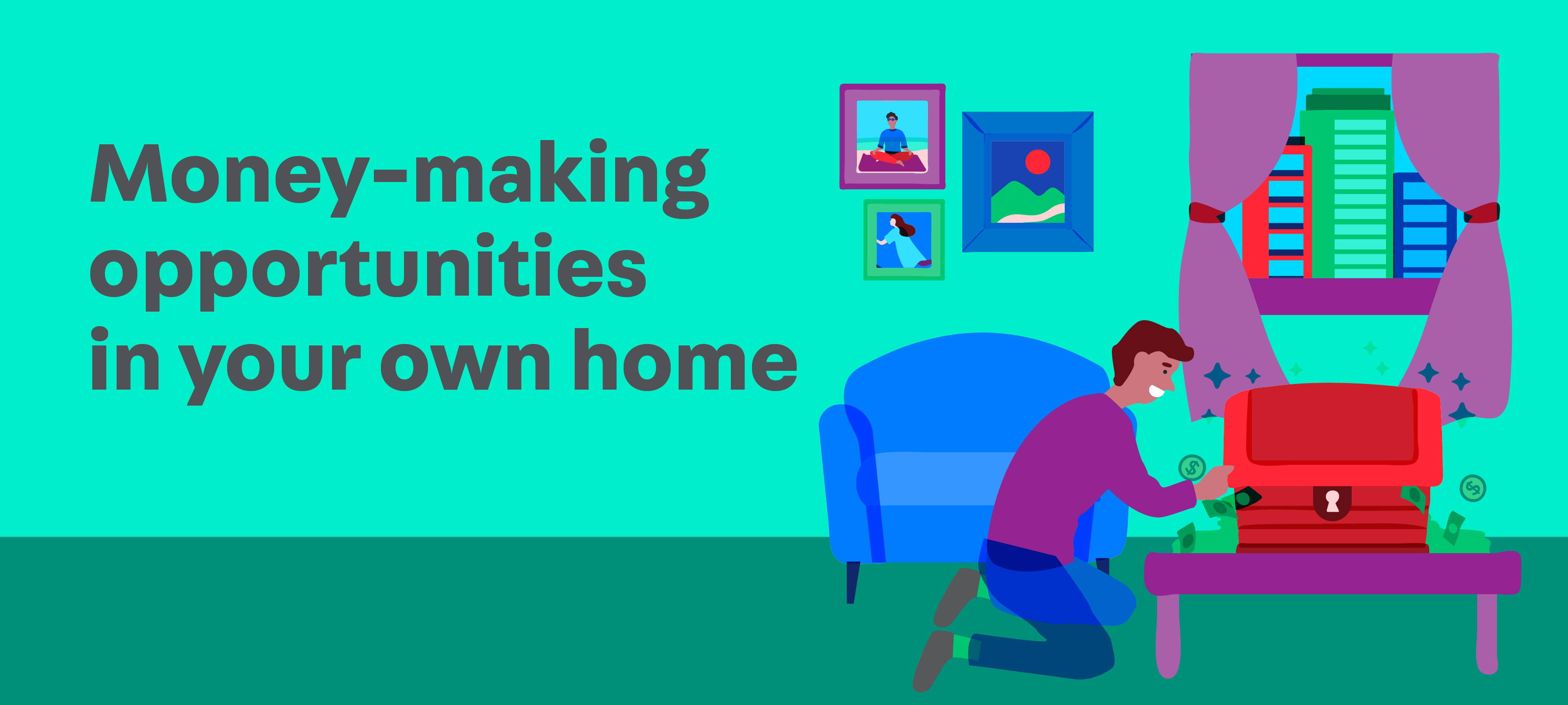 Pick up a new sport. Tick off all the restaurants in your must-try list. Travel more. We all have that something we want to accomplish, you know, at some point in our lives.
But it often comes back to having the financial freedom to do so – feeling like you're able to splurge on that good meal. Or book the pricier hotel room because hey, would you check out that mountain view?!
In fact, "earn more money" is probably one of your 2020 resolutions. It's definitely one of ours – check out our Healthier Wallets resolution campaign!
Let's get it done this 2020.
Our monthly salaries aside, we've also been thinking about how to attain that elusive "passive income".
Thing is, we're all busy enough at our day jobs. So ideally, passive income should be as easy as possible, and side gigs should be as effortless as possible.
So we thought we'd start at home.
With the easy stuff!
Here are 4 ways to fund your 2020 resolutions, be it by earning extra passive income or by saving more money:
1. Sell your unused items.
The average household has about 300,000 items.
We could probably list about a hundred that we actually use on the reg, but that still leaves us another 299,900 with the potential for decluttering.
Listing them for sale on Carousell could earn you some side income while you're at it – whether it's PHP500 or PHP5000, it'll all add up, trust us! (We promise we're not just blowing our own horn.)
You could start anywhere: Your preloved clothes. The unused storage container you use to store other unused storage containers. The bedside table. You might be surprised at how many things you could be selling for spare cash!
2. Get paid for your passion.
Just like how @letsshophandmadeandnatural creates eco-friendly products that are chemical-free like natural soap and essential oils for buyers on Carousell.
Ricalyn is a full-time mom of four and used the Carousell platform for her hobby. She first started creating those products for her kids but through the platform, she turned it into a successful side gig.
However niche you think your passion may be, there's bound to be a community for you. Like trading vintage wares? Someone might be looking for that vintage porcelain vase for their new home. Naturally artsy? There's a whole category on Carousell dedicated to arts and crafts – just saying.
3. Buy at a bargain.
With so many others selling on the platform, you've probably also figured that it's easy to sniff out a good bargain. So, buying the latest hair dryer at full price is out of the question because, in the words of a seasoned Carouseller, "Just buy on Carousell."
Home appliances, electronics and furniture are particularly good places to start searching for money-saving deals. Here's a promising statistic: An average of 5,500 home appliances are listed for sale on Carousell every month, many of them at way below retail price.
4. Go big or go home.
Speaking of home, renting out the extra space in your house on Carousell can also bring you steady side income.
There are also little upgrades to your spare room that'll make tenants love it more. Renting out quicker, and possibly at an even higher price, will fetch you extra rental income every month. Score!
Consider:
Giving the room a coat of fresh paint: It's a low-cost way of making the room look new and welcoming. Particularly if your spare room is painted a funky colour from a poor decision made 10 years ago, now's the time to go for a more neutral tone, to allow your prospective tenant to bring their own character to their room.
Tidy up your room. You want prospective tenants to take a first look at your room and love it immediately. And that means packing up the items and clearing out the clutter. Perfect excuse for point #1? 😉
And the bathroom: If the spare room you're renting out doesn't have an en suite bathroom, you'll find that tenants often ask how many people they're sharing the common bathroom with. Don't leave out all 15 of your shampoo bottles – it'll make them feel like they're sharing the bathroom with the entire estate.
Best of all, it's super easy to get started.
If you're planning to declutter and sell your preloved items for extra income, simply dedicate a set amount of time to do a sweep of your home. (Rainy days are ideal!)
Otherwise, consider sharing your hobby and skills with other Carousell users – and earning spare cash at the same time.
Ready to make 2020 your year?