The Coronavirus disease of 2019 (COVID-19) continues to spread across the nation. The number of cases climbs with no slow down in sight. But in these dark hours, the indomitable spirit of the Filipino shines brightest. 
Our frontline healthcare workers are doing whatever they can with what they can, saving lives on a daily basis all the while risking their own. Everywhere, people have opened their hearts, giving what they can to help support those who have been impacted the most by COVID-19 and the Enhanced Community Quarantine. 
But the fight against COVID-19 looks like it will continue to rage on and it is at this time that our resolve must remain strong as we continue to band together and support the frontlines and each other.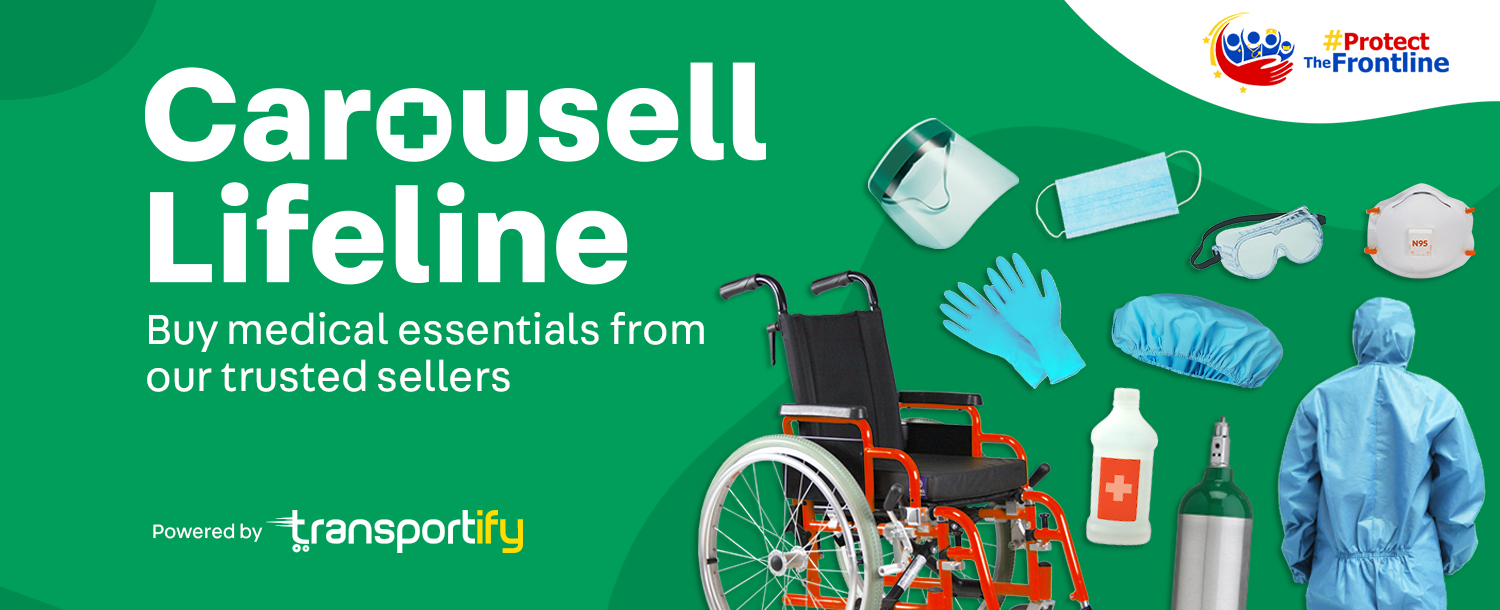 In this time of need, we bring you Carousell Lifeline – a special collection of life-saving medical essentials for donation or for personal use. We've hand-picked 150 of our trusted sellers selling personal protective equipment on Carousell.
If you are looking to donate, #ProtectTheFrontline is a nonprofit organization formed to help frontline health workers in need of support. Their website contains the hospitals and institutions that need items from the Carousell Lifeline.
Together with Transportify, we've made it easier to deliver these life-saving items to those who need them the most.
How It Works
STEP 1: Visit the #ProtectTheFrontline website first to identify which institutions are in need of what items. 
STEP 2: Purchase items from the Carousell Lifeline collection.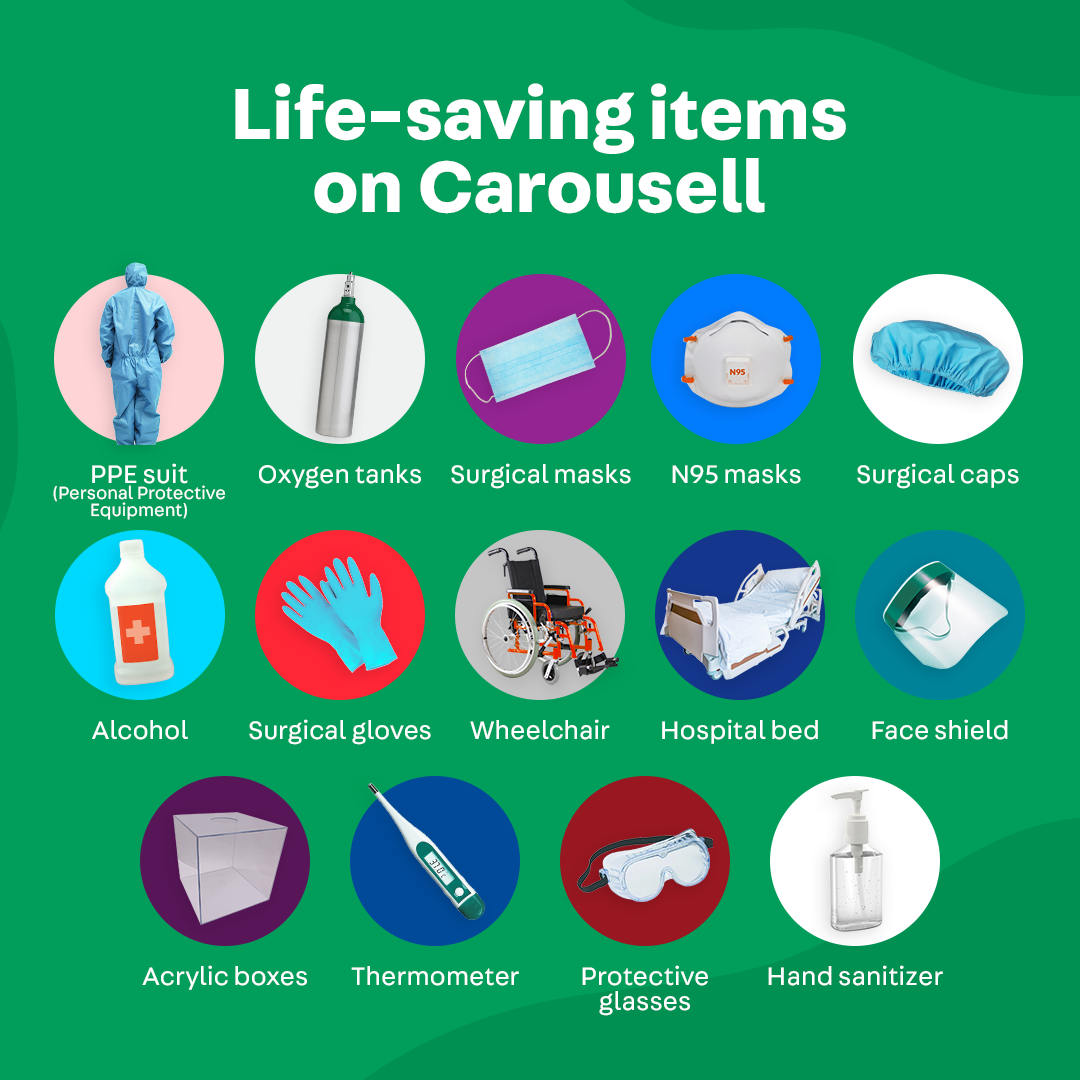 The Carousell Lifeline collection includes the following:
Personal Protective Equipment (PPE) suits

Surgical caps

Surgical gloves

Surgical masks

N95 masks

Face shields

Protective glasses

Alcohol

Oxygen tanks

Wheelchairs

Hospital beds

Acrylic boxes

Thermometers

Hand sanitizers
To maximize the impact of your delivery, it's best to buy these items in bulk when applicable and to coordinate with the people or institution you're donating them to.
Once you've made your payment to the seller, you can make arrangements for delivery.
STEP 3: Use Transportify to have the item delivered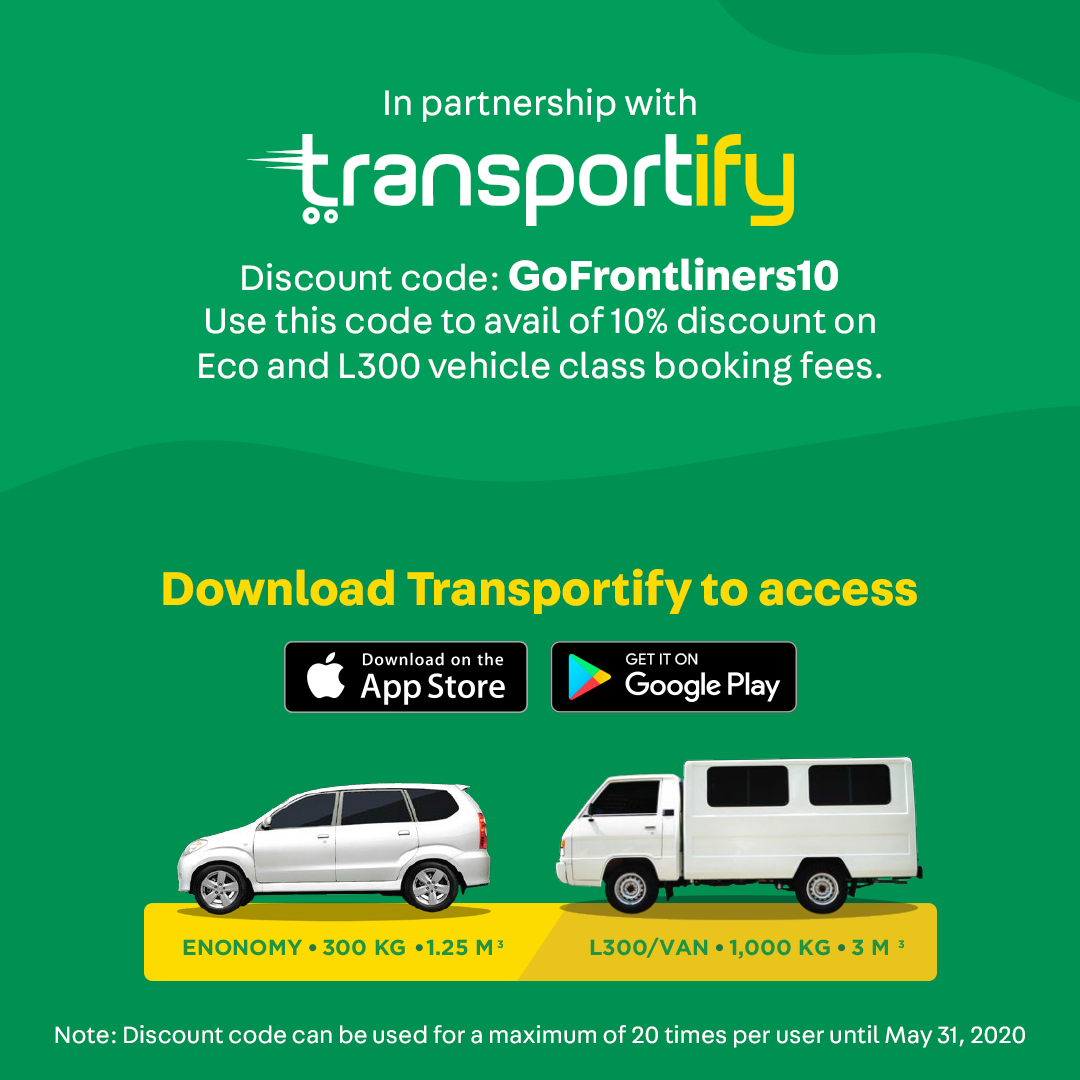 Have these items delivered through the Transportify app (on the App Store or Google Play) or the Transportify website. When you make a delivery using their Economy or L300/Van class vehicles, you get a 10% discount on the delivery by using discount code GoFrontliners10. Carousell users  who use the code will get priority when booking.
*Note: The discount code can only be used 20 times per user and is valid until May 31, 2020 only.
Transportify can pick up the item(s) anywhere in the following locations:
Mega Manila

Metro Manila

Region III: Central Luzon

Region IV-A: Calabarzon

Region IV-B: Mimaropa

Pampanga

Baguio
The item(s) can be delivered to anywhere in Luzon. 
Once the driver arrives, remember that delivery charges have to be paid directly to the driver in cash. Cash on Delivery option is not applicable.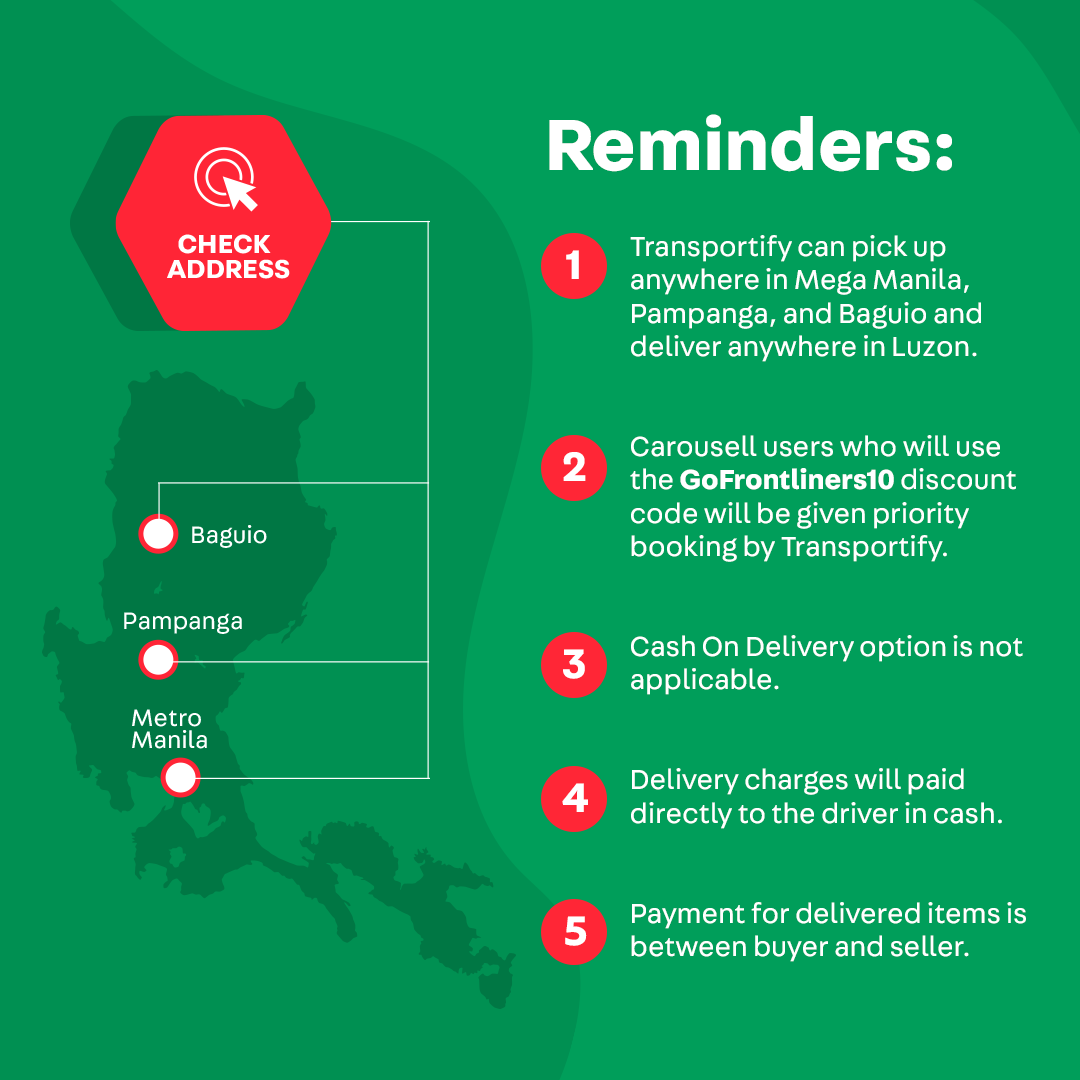 STEP 4: Coordinate with the recipient of your delivery
When the item is on its way, make sure to coordinate with the people or institution you've been in contact with. That way, you can make sure someone can be there to receive the item(s) you're donating. 
– – – – – – – – – – – – – – – – –
So, in summary, here's how you can help using the Carousell Lifeline:
Go to

#ProtectTheFrontline

's website at

https://protectthefrontline.com

to identify what you intend to donate and an institution in need of it 

Purchase the item(s) needed through

Carousell Lifeline

.

Using the discount code

GoFrontliners10,

have the item delivered via Transportify.

Pay the delivery charge to the driver in cash upon pick-up.

Coordinate with the people or institution you're helping so they can receive the delivery.
These are indeed difficult times for the country and the world. However, our bayanihan has helped us as a people overcome despair in the past and it shall continue to today. So, hang in there and do whatever you can to help. Every donation can save lives.
Together, we will beat COVID-19. We will win.