Imagine this: it's opening day for your fancy dessert place. You expected a crowd of 1000 strong, but only ten showed up.
You swore you settled everything properly, from beautiful decor to an enticing menu.
So, what went wrong?
If your guess was your failure to publicize your event to spread the word, ring-a-ding-ding you're correct!
As they say, you can come up with the best thing in the world, but if you don't shout about it, nobody's going to know.
It's the same on Carousell.
You can have the most beautiful product photo, a compelling product description or the best price in the second-hand market, but you might fail to sell your item if you don't make any effort to promote them.
In this guide, we'll show you exactly how to make a successful sale on Carousell by promoting your items to get more views.
Let's get started!
4 Quick Ways to Promote Listing on Carousell
Our app allows you to share and promote your listings quickly and straightforwardly. Here are 4 of our suggestions:
Leverage on Social Media and Social Messaging

Cross-post to Facebook groups and online forums
Share to relevant groups on Carousell
Boost your listing to the top with a Bump
All four options give your secondhand goods you're selling way more exposure.
We'll show you how to be a successful seller on Carousell starting with the first option!
How to Promote Listing on Carousell Through Social Media
Did you know that you can share your listings on social media and other messaging apps just by a tap of your finger?
Go to your profile and select the listing that you want to share. Scroll below, and you'll see "Share Your Listing":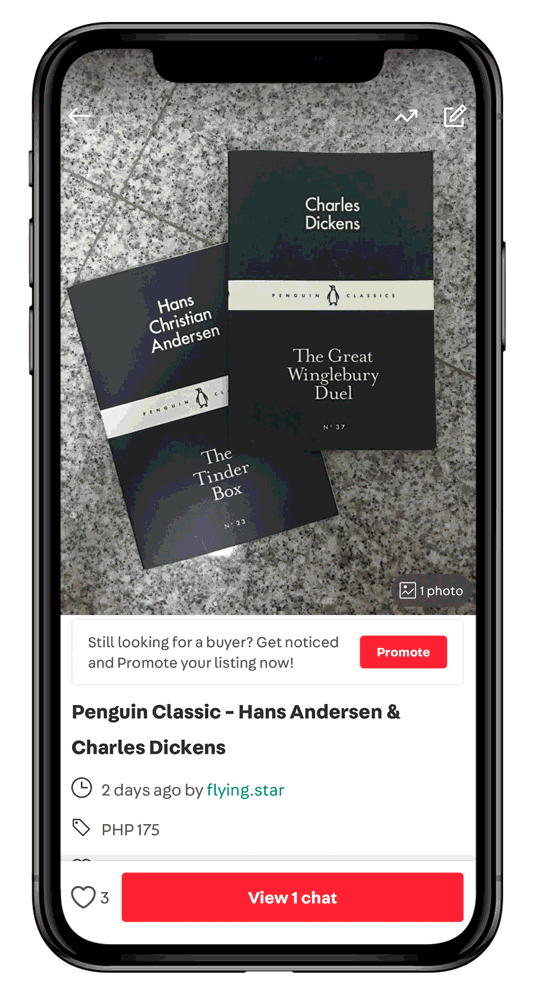 Just choose your preferred social media account to promote what you're selling! Simple. 
However, if you have a ton of friends and you already know the right person that's interested in what you're selling, we'd recommend sharing through messaging apps like Telegram or WhatsApp. That way, you don't have to waste time waiting for an interested buyer to chance upon your promotion.
Besides, it's free. So, why are you holding back? Get sharing!
Pro tip: If you have the time, share your listing on all your social media accounts for a significant increase in exposure. Be ready with an amusing caption to go along with it.
Now, you know how to promote your listings on Carousell via social media and messaging apps. On to the next tip!
Promote Listing on Carousell by Sharing on Facebook Groups and Online Forums
We know, this tip seems quite similar to promoting your listings on your social media feed. Let us explain why it's different.
Facebook groups and online forums usually contain members that have a shared passion for a particular niche. So, if your used item belongs there, share it with them. You'll have better luck selling by sharing it with an interested party.
Also, if you have a ton of other similar secondhand things for sale on Carousell, we'd advise sharing your whole profile to save time. Just let the group members know what you're selling.
So, that's how different sharing on your social media feed and social media groups can be. Let's get started on the third tip!
Promote Listing on Carousell via Relevant Carousell Groups
Well, Facebook isn't the only cool kid on the block with groups. Carousell has them too.
Carousell started "Groups" to encourage our users to find people with common interests. We wanted to provide an environment for you to join groups you like and buy and sell within that community.
First, find out which Carousell groups interests you the most (e.g. Sneakers or Books).
Then, join these exclusive communities and list up your items to increase your chances of getting more views and selling them.
There are even groups based on where you stay. Convenient huh?
So, here's where you can find Carousell groups:
We'd recommend making it quick by using the search bar to get to the Carousell group you want to join.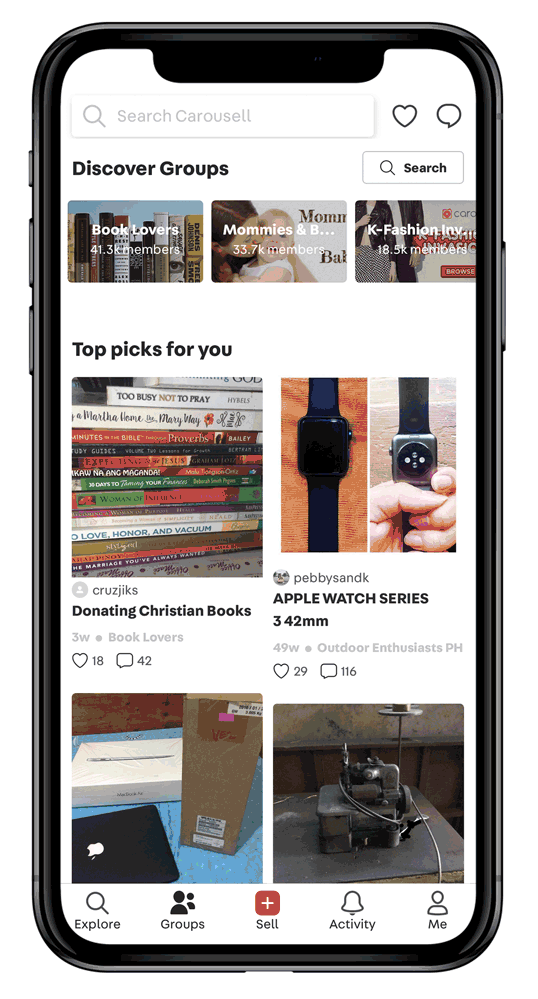 Once you're ready to share your used item with the Carousell group you joined, go to your listing page. Then, tap on "Promote". You'll see this page: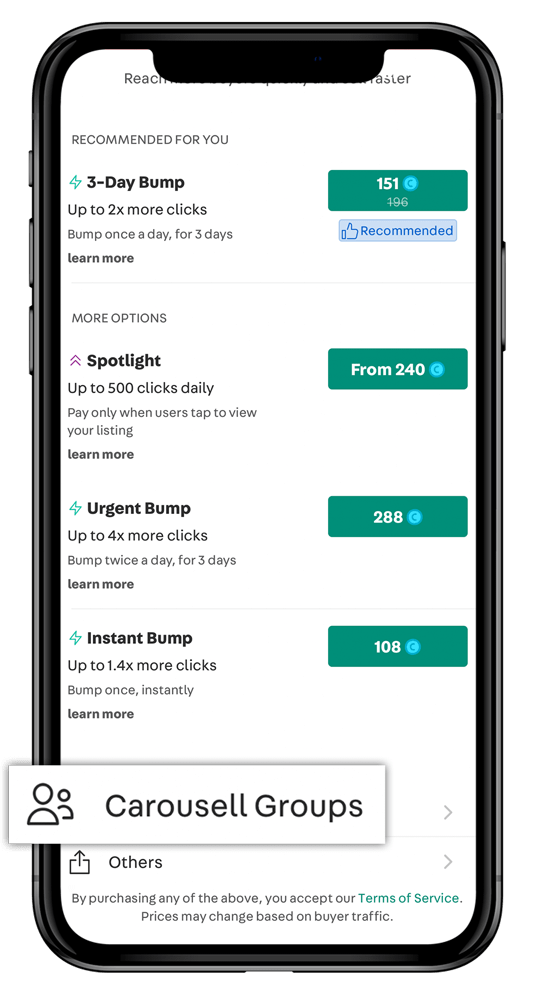 At the bottom of the page, click "Carousell Groups" under Share with Community section. You'll see a page showing all the groups you joined.
Select the right group and hit "Share"! It's as simple as that.
Pro tip: You can also search for a Group by entering keywords. Keywords you can try include brands, locations, celebrity names, hobbies, trends and so on.
You're almost there, on to the last tip on promoting your items on Carousell!
Promote Listing on Carousell by Using Carousell Bumps to Get 2x More Views
Carousell Bumps is a feature you can use to give your item a boost. It brings your listing to the top of the marketplace at a given time.
Long story short, the massive benefit of getting a Bump is that it gets you 2x more views than usual. Tempting?
We believe it is, especially if you're in a hurry to sell.
Don't jump the gun just yet, check out this guide for an in-depth look at how Carousell Bumps work.
As a bonus to you for getting this far, here's an extra tip on promoting your items on Carousell!
Bonus Tip: Your Best Friends are Your Best Promoters
This might sound "given" to you but believe us, a lot of sellers forget to share their listings with their friends.
People are naturally friends with others that share common interests, hobbies, even tastes. With that said, don't you think your friends will be the best "promoter" of the secondhand things you're selling?
Personally, we would ask a favor from my friends to help spread the word about the thing we're selling on Carousell.
Think about it this way; you have 50 friends, and your friend has another 50 you don't know. That's possibly double the exposure. All it takes is a good friend that's willing to share.
You never know, they might even be interested enough to buy off your used items from you!
Attract More Buyers on Carousell by Promoting Your Listings
Thanks for reading it until the end! Now, you have 4 different ways of promoting your listings on Carousell.
If you ask us, we'll recommend using every trick of the trade we shared if you want to make a successful sale fast. Besides, nothing to lose right? Putting a little extra work from the beginning will save you a ton of time later.
Feel free to leave your comments below if you need any extra help. If you've any friends selling on Carousell too, do them a solid by sharing this guide with them!